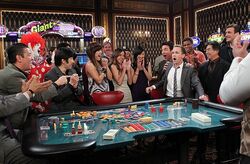 Xing Hai Shi Bu Xing (transliterated as "OK or not") is the game Barney plays in Atlantic City and The Bro Mitzvah. It is an incredibly complicated casino game which nobody who doesn't speak Mandarin is able to comprehend, with Marshall being the sole exception.
It involves poker chips, a deck of cards, dice, Mah-Jong tiles, a roulette wheel, and three girls with a hidden jelly bean.
Barney states that he played this game intensely during his days when he was addicted to gambling. He mentions it in his blog.