Comments

3
Live Chat Party for Episode 8x02: The Pre-Nup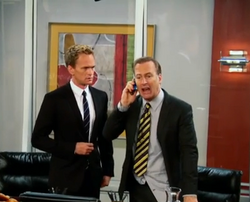 Alas, the new season of How I Met Your Mother is upon us! When the premiere episode, Farhampton, aired on Monday, our fair Wiki didn't even have the new Chat Room feature. Thankfully, we have gotten our act together so that die-hard fans of the show can chat with each other anytime they want. Legendary.
You might be asking yourself, when can I know when other HIMYM fans are in the Chat Room? Well that should be obvious! We shall rendez-vous on Monday night when the newest episode, The Pre-Nup, airs on CBS. We can speculate beforehand, freak out during, and decompress after the episode. If we have a lot of fun, we can do it every week. Awesome.
Please join us at 8PM, both East Coast and/or West Coast times, to watch and live chat with other HIMYM fans as you watch the show and sound off scene-by-scene!
To join the chat for The Pre-Nup....CLICK HERE!