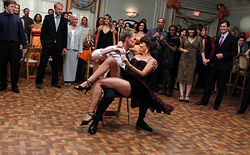 Are you a long-time Barney/Robin shipper? You'll love these new pictures of the two on-again off-again lovebirds at Punchy's wedding! With Barney's wedding rumored to cap off the upcoming season, is Robin once again a serious contender for Barney's affections?
Check out the pictures of Robin and Barney tearing it up on the dance floor, courtesy of TV Line!
Gallery
Ad blocker interference detected!
Wikia is a free-to-use site that makes money from advertising. We have a modified experience for viewers using ad blockers

Wikia is not accessible if you've made further modifications. Remove the custom ad blocker rule(s) and the page will load as expected.