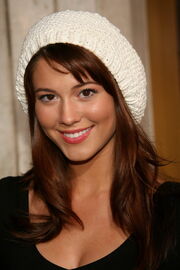 The time of her appearance is fast approaching. We know that she'll be at Barney's wedding, and the eighth season is planned to be the last. Ted's kids are teenagers in 2030, so their births can't be delayed much longer. So I'm asking: which actress should play The Mother?
I've done a lot of research about Ted's elusive soulmate, and I think I've found a pretty good candidate: Mary Elizabeth Winstead.
Born November 28, 1984, Mary is an American actress who has starred in films such as Final Destination 3, Black Christmas, Live Free or Die Hard, Death Proof and Scott Pligrim vs. The World. She will also star in the upcoming films The Thing and Abraham Lincoln: Vampire Hunter.
You can't deny that if she and Josh Radnor had kids, they'd probably look like Lyndsy Fonseca and David Henrie.
The Mother is known to be eccentric, making breakfast sing show tunes and painting robots playing sports. She also likes the book "World's End" by T.C. Boyle and the album "Who Will Cut Our Hair When We're Gone?" by The Unicorns, she plays bass in a band and owns a yellow umbrella. Mary is known for playing outsiders, and doing projects that are outside the ordinary.
In Shelter Island, we find out that if Ted had married Stella, his kids would have been blonde. This heavily implies that The Mother is a brunette, which Mary is.
Mary is currently 26, so she could be passed off as a college student, which The Mother was when Ted taught the wrong class by mistake. She also looks the same age as Rachel Bilson, who played Cindy, The Mother's roommate.
This also fits into the theory that The Mother could be Carly Whittaker, Barney's half-sister. Mary has brown hair, just like Carly's younger brother J.J., and she looks like she could be John Lithgow and Nancy Travis' daughter, and Neil Patrick Harris' half-sister.
Verdict? Does anyone agree? If not, who do you think would be a good actress to play The Mother?
Ad blocker interference detected!
Wikia is a free-to-use site that makes money from advertising. We have a modified experience for viewers using ad blockers

Wikia is not accessible if you've made further modifications. Remove the custom ad blocker rule(s) and the page will load as expected.