Ad blocker interference detected!
Wikia is a free-to-use site that makes money from advertising. We have a modified experience for viewers using ad blockers

Wikia is not accessible if you've made further modifications. Remove the custom ad blocker rule(s) and the page will load as expected.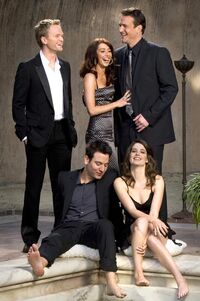 It's hard to believe that How I Met Your Mother is officially over, especially with that ending, but there's a chance for you to own a piece of HIMYM history! Over the next five weeks, the recently launched HIMYMProps.com will feature real props from the show that fans can enter to win! This is the ultimate way that the creators feel they will truly be able to thank and give back to the loyal fans. One lucky fan will even have a chance to win the ULTIMATE prize – the actual bar from MacLaren's complete with bar stools!
There will be a flash sweeps every Monday 8-11pm EST that YOU can enter in order to win a prop! So what are you waiting for? Head over to the website now and bookmark it for future reference! And, if you end up winning that MacLaren's bar set, INVITE US OVER :D
---
---