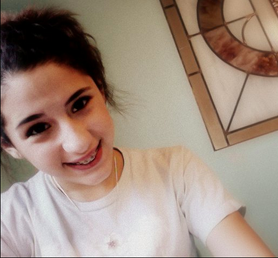 Hey there, fellow How I Met Your Mother fans!
My name is Layna, and I am fourteen years old. Although I might seem a little young to watch How I Met Your Mother, I will be fifteen soon, so then I won't be too young! I live in Minnesota, just like Marshall, but in Golden Valley instead of St. Cloud. Really, we aren't as nice as they say we are. ;)
I am a huge fan of How I Met Your Mother. I have respectively watched all episodes the night they come out, or the day after if I have plans. My favorite character is Robin. Not many people like her, and they just think she is on the show to be on the show, but I actually love her! She reminds me of my aunt, and my aunt is pretty cool. In fact, Let's Go To The Mall is my ringtone! I also like Barney a lot, but let's face it, who doesn't? Although I don't respect his views on women, they are pretty darn funny. I love his Playbook and his Bro Code, and I own both of them, and they are sitting on my night stand this very moment!
I have many interests. My three main ones are horse back riding, drawing, and playing piano. But I also play soccer and gymnastics, but not as much anymore. Also, like Robin, I am a huge dog person, and have three dogs at home, Nikki and Maddie, who are golden retriever-lab mutts, and Joey, who is a poodle-terrior mutt! One of them, Joey, is my very own, who I take care of. Awesome, right?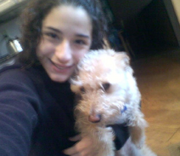 I also like to read a lot, mostly Harry Potter. Literally, I am completely obsessed with it. I am the proud owner of the Elder Wand, Hermione's Wand, a Hogwarts Acceptance Letter, and Time Turner and Locket Horcrux necklaces. I also own Tom Riddle's Diary, the Golden Snitch, and of course, all of the books, including Fantastic Beasts and Where to Find Them, Quidditch Through the Ages, and the Collector's Edition of The Tales of Beedle the Bard, which are all pretty legendary!
On a How I Met Your Mother note, though, I own all of Barney's published books except for Bro on the Go, because I'm more of a "stay at home" type of girl, and don't travel a lot. I also own all five of the seasons on DVD, and will soon own season six once it comes out. After a while, I even got my friends into the series, and they are almost as obsessed with it as I am! So as you can tell, I am a pretty die hard HIMYM fan!
Hope you enjoyed my page! LAYNA OUT.