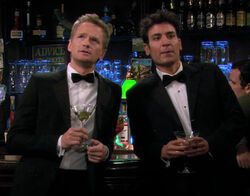 Tuxedo Night is a night hosted by Barney and Ted in Definitions.
Although it is made out to be a regular occurence, it has only been seen once. Marshall has expressed disappointment that Barney and Ted haven't ever invited him to Tuxedo Night before, and even went so far as to have his own Tuxedo Night without telling Barney and Ted, to let them know how bad it feels to not be invited.
Ad blocker interference detected!
Wikia is a free-to-use site that makes money from advertising. We have a modified experience for viewers using ad blockers

Wikia is not accessible if you've made further modifications. Remove the custom ad blocker rule(s) and the page will load as expected.