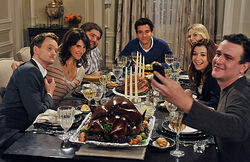 A TurTurkeyKey is a turkey that is stuffed with another, smaller turkey.
In honor of hosting his first Thanksgiving, Ted decides to create a TurTurkeyKey for the gang in Blitzgiving. He claims that the TurTurkeyKey is "copyright pending". Despite looking delicious, it tasted "wrong" (according to Future Ted).
Notes and Trivia
A TurTurkeyKey is a reference to a turducken - a turkey stuffed with a duck stuffed with a chicken.
Ad blocker interference detected!
Wikia is a free-to-use site that makes money from advertising. We have a modified experience for viewers using ad blockers

Wikia is not accessible if you've made further modifications. Remove the custom ad blocker rule(s) and the page will load as expected.