Tim Gunn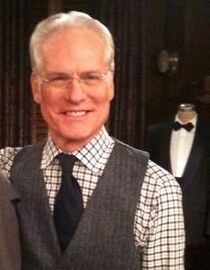 Portrayed by:
First appearance:
Last appearance:
Full name:
Timothy M. "Tim" Gunn
Home town:
Born:
July 29, 1953
Occupation:
Fashion consultant, television personality, chief creative officer at Liz Claiborne, Inc.
Residence:
Gallery of Tim Gunn images (4)
Tim Gunn
is an American fashion consultant and television personality.
He is well-known as on-air mentor to designers on the reality television program Project Runway. Gunn's popularity on Project Runway led to his spin-off show, Bravo's Tim Gunn's Guide to Style, as well as his book A Guide to Quality, Taste and Style. He is also Barney's emergency tailor.
In Girls Versus Suits, Barney is forced to choose between the new, hot bartender (Karina) and the suits. For a while he attempts to dress casually, convincing the hot bartender she misjudged him. He even sneaks away to the bathroom to wear his suit, where he accidentally rips the back.
Barney went to his emergency tailor, Tim Gunn, so he can repair the suit. Tim informs him that the suit couldn't be repaired but he can "transplant" the buttons to save another suit and Barney cremates the remains.
Episode Appearances
Notes and Trivia
External Links