The Threeway Belt
Comments

5
860
legendary pages on this wiki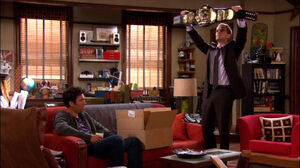 The
Threeway Belt
is the belt awarded to
Ted
or
Barney
whenever one of them manages to be a part of a threesome.
It was first revealed in Third Wheel; Ted reveals that he and Barney have a running joke that the first one between them to be in a threesome will win the championship belt. Marshall thinks he means a metaphorical belt, but it's shown that Barney went out and actually got the WWF "Winged Eagle" title for the occassion. The belt is mentioned many times throughout the series, and in the Barney's Blog entry From The Files Of Li'l Barney.
In that episode Ted enters the bedroom where Trudy and Rachel are, but later he doesn't reveal if he had won the belt.
Later, in Zoo or False Barney it's seen on screen with the belt on, after telling the story of how he hooked up with two girls he met in different nights in the bar. However, Ted and Marshall think he's lying and that actually both women splashed their vodka tonic on his head.
In Shelter Island, Barney is in his room with another woman when Stella's sister Nora arrives. It is unknown if Barney claimed the belt for that or not.
In Romeward Bound, Barney said that he still wants the belt, meaning that he did not claimed it with Nora Zinman and another woman in Shelter Island.