The Swords are a decoration in the Apartment. Members of the gang have fought each other with them on several occasions.
The Fights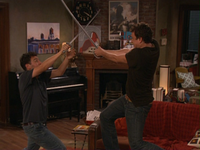 In The Duel, Ted and Marshall used the swords to fight over who gets the apartment when Marshall and Lily get married. While fighting they comment on how awesome it was and they can't believe they hadn't done it sooner. Lily then comes in, the coffee table that Marshall was standing on collapses, causing him to fall backwards and stab Lily in the shoulder.
In Last Time in New York, Ted and Marshall have another fight, and in this one they accidentally destroy the dress Lily is going to wear to Robin and Barney's wedding. In the same episode, Lily and Robin also have a sword fight destroying a bottle of 30 year Glenn McKenna in the process, that Ted was saving for his last drink with Marshall and Barney, before he moves to Chicago, and replaced it by mixing the remaining Glen McKenna with a cheap whiskey, chocolate sauce, ketchup and hand sanitizer to get the color right.
Ad blocker interference detected!
Wikia is a free-to-use site that makes money from advertising. We have a modified experience for viewers using ad blockers

Wikia is not accessible if you've made further modifications. Remove the custom ad blocker rule(s) and the page will load as expected.