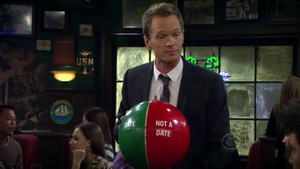 "The international date line is the line between happiness and sorrow. On that side, You'll be home tonight. On that side, home tomorrow."
The International Date Line is one of Barney's theories.
Its basically a globe that half of it is red with the title "Not a date" and the other half is green with the title "Date". The globe rotates for every thing that happens.
This theory introduced and seen in Bedtime Stories.
Ad blocker interference detected!
Wikia is a free-to-use site that makes money from advertising. We have a modified experience for viewers using ad blockers

Wikia is not accessible if you've made further modifications. Remove the custom ad blocker rule(s) and the page will load as expected.