The Gang

Episode Appearances

numerous

Members

Ted Mosby, Marshall Eriksen, Lily Aldrin, Barney Stinson, Robin Scherbatsky,

The Gang serves as main characters in How I Met Your Mother universe. They are included in all of Future Ted's stories and adventures before he met Tracy Mosby, his wife.
The Main Five
The Gang also known as The Main Five is a group of friends consist of:
Additional Member Info and Trivia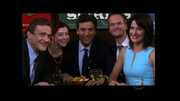 The Gang is formed by Ted and Marshall in their university days.
Lily joins The Gang when she dates Marshall also in their university days.
In 2001, Barney joins The Gang after he decided to teach Ted how to live.
In 2005, Robin is included in The Gang after she met the rest of them in Purple Giraffe.
In Season 6, Zoey is temporarily a part of the gang, but disappears after Ted ends their relationship.
Technically speaking, each member of the main five members was engaged twice over the course of the series:
Ad blocker interference detected!
Wikia is a free-to-use site that makes money from advertising. We have a modified experience for viewers using ad blockers

Wikia is not accessible if you've made further modifications. Remove the custom ad blocker rule(s) and the page will load as expected.