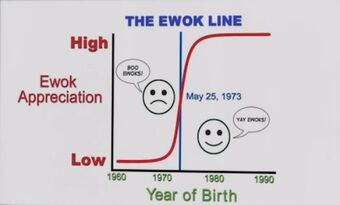 The Ewok Line
is a fictional graph employed by
Barney Stinson
in
Field Trip
.
Summary
The Ewok Line correlates the birth year of a person and the subsequent appreciation of Ewoks, fictional teddy bear-like creatures from the 1983 film Return of the Jedi. Those born on or before May 25, 1973 have a low appreciation of the film's creatures, while those born after this date have an affinity for them. This is because those who saw the Ewoks in Return of the Jedi, which was released theatrically on May 25, 1983, who were 10 or under still loved their teddy bears, giving them an increased appreciation for the Ewoks.
Ad blocker interference detected!
Wikia is a free-to-use site that makes money from advertising. We have a modified experience for viewers using ad blockers

Wikia is not accessible if you've made further modifications. Remove the custom ad blocker rule(s) and the page will load as expected.