Ted and Robin
Comments

559
1,006
legendary pages on this wiki
Ted and Robin

Started Friendship

Started Dating

Break up (Remain Friends)
Show Outline
Edit

Ted
and
Robin's
relationship began when they met in a bar, went on one date and Ted confessed his love (
Pilot
). They tried to remain friends and succeed with Ted showing no further interest until The Pineapple Incident, where Ted miraculously developed feelings for her again. He wanted more until he met
Victoria
. Unfortunately, that was the same time that Robin was rewritten to have feelings for Ted (
Drumroll, Please
). The relationship almost went down in flames after Ted cheated on Victoria with Robin while lying to Robin, saying he and Victoria were broken up.(
Nothing Good Happens After 2 A.M.
). Later that night Ted and Victoria break up. Robin stops talking to Ted for weeks because he lied to her in an attempt to have sex, even Barney condemns Ted for this move. However, after months of difficulties, Ted finally manages to wear Robin down enough that she agrees to date him. (
Come On
)
Although caught in the middle of Marshall and Lily's breakup, Ted and Robin initially enjoy the passion of a new relationship, despite wanting completely different things. Afterwards, they began experiencing their first difficulties as a couple (Brunch). Robin especially had difficulties adjusting to being in a serious relationship even believing that her inattentiveness had driven Ted to cheating (Ted Mosby: Architect). After a while, she would eventually admit her secret past as a Canadian pop star (Slap Bet) and, when Robin's sister came to town, Robin would eventually echo Ted's pronouncement of love from almost a year previously. (First Time In New York)
Ted and Robin would again face difficulties when Robin learned how much of Ted's stuff belonged to his ex girlfriends. When he learned that her dogs were from her ex-boyfriends, Ted pressures her into giving them away. However the two would have their biggest fight ever when Robin discovered Ted lied about getting rid of all the stuff from his exes. In the end they decided to move in together (Stuff). Ted even got as far as moving out of his apartment when Barney sabotaged the move by stealing the moving van. The obstacles of the night forced them to realise they were not compatible enough to move in together and Ted moved back in with Marshall and Lily. (Moving Day). By the end of their relationship Ted and Robin act more like friends than lovers and appear to be dating just for convenience.
Ted and Robin would eventually break up on their one year anniversary. Confusion from another couple's engagement ring and Robin's horrified reaction forced them to consider their own future. They finally discussed how different they were, how they wanted different things out of life and how they weren't right for each other. Reflecting on their differing feelings about marriage, kids, and how they weren't able to move in together, they decide to break up. (Showdown, Something Blue)
Robin deals with the break up by taking a trip to Argentina. Ted takes some time off of relationships but when Robin returns with the hot Gael, Ted ends up going on a wild date with Amy and gets a tattoo. Ted confronts Robin and yells at her claiming that their breakup was too friendly and he needed to yell. Robin admits that she spent days crying her eyes out over Ted. He points out that he feels Robin is trying to win the break up with Gael and she placates him by assuring him that he is "bigger". (Wait For It)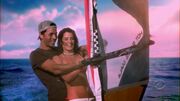 They seem to go their separate ways and each dates other people. However, the two still feel awkward and don't spend much time alone. That is, until Thanksgiving when the two find themselves baking pies at Robin's apartment. They confront their awkward feelings by having sex. This actually allows them to settle most of the awkwardness and their friendship emerges stronger than ever (Slapsgiving). In fact, Ted isn't even angry with Robin after she admits to sleeping with Barney. (The Goat)
Despite the security of their friendship, Robin remains aware of her status as Ted's ex-girlfriend. She declines to offer an opinion about Ted and Stella when the rest of the group questions Ted's hasty engagement (Intervention) and feels strange about showing up at Ted's wedding. She points out that even though she and Ted are cool, it's still weird to see Ted married off to Stella. However, she does show up at the wedding and finally offers her opinion that Ted and Stella's marriage is too hasty, and admits that she has lingering feelings for Ted. In love with Stella, Ted tells her off only to find that Stella has left him for her own ex, Tony. (Shelter Island)
After deciding to move back to the country from Japan, Robin eventually moves in with Ted, replacing Marshall as his roommate (Not a Father's Day). However, without the regular sex they had when they were dating, they find themselves fighting all the time. They decide to remedy it by having sex. Although both are comfortable with the "friends with benefits" status, they decide to call it off after Ted realizes that Barney has feelings for Robin. (Benefits)
That same year, Ted learned that Lily was partially responsible for his and Robin's break up. Seeing that the two wanted completely different things, Lily subtly pointed it out to the two and actually fed them the very words leading to their break up. Lily asserted that, while she didn't intend to break them up, it was the right thing to do because it prevented them from staying together too long and having a bitter break up that would have prevented them from remaining friends. (The Front Porch)
When Ted started his own architecture firm, Robin let him work from their apartment but slowed him down by sleeping with Ted's assistant, PJ. However, she eventually gave Ted the pep talk he needed and helped him start calling clients (Mosbius Designs). She also confessed to Ted the truth about a prank being played on him by Barney and Marshall (The Three Days Rule). Finally, Ted would give Barney his blessing giving Barney the freedom to talk to Robin about his feelings. (The Leap)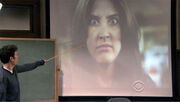 With Robin and Barney finally dating, Ted put his Robin-knowledge to good use by teaching a course called Robin 101 to Barney, believing he understood her (although some of his information turns out to be false). Although he violated her privacy, Robin forgave him. Ted pointed out how much the relationship meant to Barney (Robin 101).They almost share a kiss in the season finale, though it is because Robin is sad rather than any feelings, but then Robin notices that Ted has blonde hair. (Doppelgangers)
After her breakup with Don, Robin moved back into Ted's apartment , and Ted has attempted to help her recover from the breakup, however it is Barney who is ultimately successful. (Big Days)
When Robin told Ted she was hoping to be the "coin flip bimbo" on Million Dollar Coin Toss, Ted reminded her of her earlier resolution to work at World Wide News and forced her to take the job there instead. Robin also asked Ted to be her Best Man on her wedding. (False Positive)
Once he learned that she was working with his old nemesis, Sandy Rivers, Ted went to Sandy's apartment to defend Robin's honor. (Bad News)
In Ducky Tie, Victoria tells Ted the reason their relationship didn't work out and the reason for all his other relationships failing was due to Robin.
In The Drunk Train, a sad desperate Ted believes his last hope for a relationship is Robin. After Robin tearfully tells Ted about her break up with Kevin, Ted tells her that he loves her. Confused and emotionally strained Robin initially falls for Ted's further attempt to take advantage of her situation and kisses him, before leaving for Russia.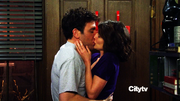 After Ted's confession about his love for Robin, she tells him that she doesn't feel the same way, and moves out of his apartment. (
No Pressure
) Ted then refuses to talk to her for weeks because she doesn't love him.
In The Broath, Robin and Ted both like Quinn's apartment. This leads Ted and Robin fighting over who gets her apartment. Ted asks Robin to let him have Quinn's apartment, after what happened between them. She takes him aside, and tells him that the last few weeks have been hard on her as well. In a single day, her engagement fell apart, she lost her best friend, and she might even lose her job. Later, Robin meets up with Ted and tells him that she got promoted and that she got a big raise and is getting an apartment, which means he can have Quinn's apartment. He thanks her and tells her that he can go back to normal.
In Now We're Even, Ted still refuses to talk to Robin even when she nearly dies she he only sends to a text message telling her that he is happy to know she's okay.
In Good Crazy, Barney encourages Ted to try online dating by setting him up with three specific women. Over the course of each date, Ted suddenly visualizes Robin sitting in front of him and is determined to get her out of his mind even if his dates found him weird. Later, Ted goes back to MacLaren's and tries to order a drink, but sees Robin as the bartender and a nearby patron. Both pseudo-Robins encourage him to find Robin and make amends. Both Ted and Robin meet by chance outside the bar and try to talk but Robin says it is not yet a good time.
In The Magician's Code - Part One, Ted and Robin help keep Lily calm, when she goes into labor, while Marshall is away. They later take her to the hospital, and also make up and resume their friendship.
In The Magician's Code - Part Two, Robin reminds Ted that they don't work and encourages Ted to call Victoria, to find out if she ever got engaged.
In Nannies, Ted and Robin fight over whose relationship (Ted's with Victoria and Robin's with Nick) is more serious. However, they later accept that each of their partners has a major flaw.
In The Autumn of Break-Ups, when Ted proposes to Victoria, but she demands that he stop being friends with Robin as she is afraid that his feelings for her may rekindle. After deliberating, Ted tells her that Robin is like family to him and that he can't stop being friends with her, resulting in Victoria breaking up with him.
In
The Final Page - Part Two
, Ted tells Robin that Barney is going to propose to
Patrice
and that she should go and stop him (meaning that he let go of Robin). At the end of the episode he is seen looking out the window of the new GNB building with a sad look on his face as he is now the only single one out of his friends.
In Something Old, a desperate Ted cancels a meeting with a client to help Robin dig up her locket which was meant to be her "something old" at her wedding. He then tries to convince her that the locket not being there is not a sign that she shouldn't marry Barney. They end up holding hands and looking at each other sadly.
In Something New, Ted tells Lily that the reason he is moving to Chicago is to get away from Robin after Barney and Robin's wedding. He admits that he believes he still loves Robin and wants to make her happy. It is shown in a flashback that Robin was sad about losing her back up husband when Ted was going to marry Stella and dug up her locket herself. Lily tells Ted that Robin accidently left the locket in his apartment, forgetting to take it with her to Japan, so Ted decides to give it to Robin as a wedding gift, but Lily cautions him against it.
In The Locket, Ted has the racecar pencil and gets Lily out of his car to give his gift to Robin. It is revealed that the locket was not in the box and that it could be Los Angeles in Stella's storage unit. Ted gives Robin a photo of the whole group from 8 years ago as a wedding gift instead of her locket. He later promises Lily that he won't do anything insane that weekend. It is revealed that four days ago that Ted bought a ticket to L.A.
In The Broken Code After a lecture from Lily, she convinces Ted to have his one last drink with Barney, who when approaching him, reveals he saw Ted/Robin holding hands in the rain, and Ted drops an expensive bottle of scotch. Barney is rightfully annoyed, and replaces Ted as Best Man with William Zabka . Ted also reveals that he still has feelings for Robin.Marshall Skypes with the two of them, and tells them to recreate the scenario while the two of them hold hands. Ted admits to Barney he does have feelings for Robin, and that he would never do anything to get in the middle of them. Barney forgives him over a poker game, which irritates William Zabka.
In a flash back to the fall of 2012
Platonish
Ted is seen being flirty with Robin when they do their salute joke. Lily tells Ted that he and Robin are platonic. Barney comes in and says that Ted and Robin are not platonic. Later that night Marshall tells Ted that Robin is his girl. Ted and Marshall think how Ted could get Robin back. It involves Ted stealing the locked up Blue French Horn by cutting the lock (possibly foreshadowing the finale). Ted later tells Marshall that there is no rush with him and Robin and that it will happen when it will happen. At that moment Barney is writing "The Robin".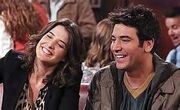 In Unpause ,When Barney drinks too much, Ted and Robin take advantage of him and get him to reveal secrets he's been hiding for years, such as who he has slept with, what he did to Ted's mom, his height, the ring bear, and his job.
In
Sunrise
, Ted tells Robin why he and Victoria broke up (which she annoyed by), he is moving to Chicago, and we learn that Stella didn't have the locket, Victoria did. Victoria overnights it, but Jeanette intercepts it from Ted, and throws it off a bridge into a pond. That night, looking for Barney with Robin is when Ted finally lets go of Robin, during the Sunrise.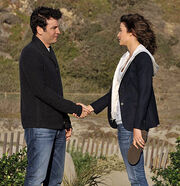 In The End of the Aisle, Robin panics about her wedding (foreshadowed in False Positive), in this state of panic she realizes that it was Ted who tracked down her locket (it is revealed that Ted jumped of the bridge to retrieve the locket) and, due to her stressed state, thinks it might be a sign she shouldn't marry Barney. Ted tells Robin that she loves Barney and that he would never do that to him. In her panic she thinks about running away, first using Ted as an excuse but when he doesn't agree she decides to run away by herself but a talk with The Mother makes her realize she loves Barney.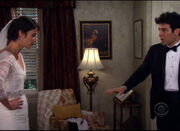 In the finaleLast Forever - Part Two, In 2020 Ted is showing Penny the GNB tower when he runs into Robin. They hug and chat for a little. Later that year in Ted's wedding day, Robin who said she wouldn't go to the wedding, shows up at the Bar, because Tracy convinced her. In 2030 after Ted finally finishes telling the kids the story of how he met their mother, the kids say Ted still has feelings for Aunt Robin and should call her. Ted shows up at Robins apartment with the Blue French Horn. She smiles down at him.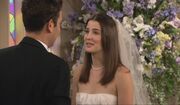 Significant Episodes
Edit
Recurring Elements
Edit
Notes and Trivia
Edit