This page is currently under construction.
It needs editing and maybe some additional information. You can help the How I Met Your Mother Wiki by contributing.
Ted and Lily

Started Friendship

1996, their first year of college

Current Status

Best friends
General Outline
Ted and Lily have been friends since their freshmen year of college. Lily was dating Ted's roommate and future best friend, Marshall Eriksen. During their college years, the three would hang out with each other on a regular basis, and based on flashbacks, it seems that they spent a lot of time getting high together. Ted was even present when Lily lost her virginity to Marshall. After knowing each other for years, Ted and Lily have become very close, for example, the two have both learned how to tell when the other is lying. The two have a tradition that when they're mad at each other, one of them buys the other a beer to make up. Her engagement to Marshall is what sparks Ted to start looking for a wife. For the majority of the first season, the two's friendship is strong, until Lily breaks off her engagement to Marshall to go to an art fellowship in San Francisco. Ted sees Lily's decision as selfish and takes Marshall's side. Even after Lily and Marshall get back together, Ted still does not completely forgive Lily straight away, due to the fact that he feels that she not only left Marshall, but him as well, and she never apologized to him. The two do eventually make up and Lily still continues to try to help Ted find a wife.
One such episode which features tension between the two is How Lily Stole Christmas. In this episode, they actually have a fight because of something that took place during the summer when Marshall and Lily were broken up; when Ted was helping Marshall to move on from Lily after she left him, he called her a "grinch" (Future Ted reveals that he actually used a word much worse than "grinch"). Lily is horrified when she finds out, but Ted is still not ready apologize, and even calls her a "grinch" again after that. However, they make up at the end of the episode.
Background
Ted and Lily (along with Marshall) first met in their first week of college in September, 1996, and have been best friends ever since. Once in college, when the pair were high together, Lily told Ted that she always wanted an Easy-Bake Oven, but never got it because her feminist mother got her a Lego set. Later, Lily did get it for Christmas, but that was only because Ted told Marshall about it.
Show Outline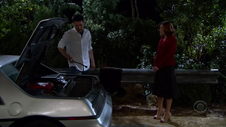 In Season 1, Ted helps Marshall practise his proposal to Lily, which she accepts.  Lily later helps Ted with Natalie, giving him advice on how to get her to give him a second chance (although she was angry at him at first for the way he dumped her when they were together the first time). They begin to encounter problems in their friendship when Lily decides to move in with Marshall and Ted in The Duel, as Lily makes changes throughout the apartment, much to Ted's dismay.  Lily also turns to Ted in  Milk after she decides that she wants to go to San Francisco for an art fellowship.
Significant Episodes
Gallery
Ad blocker interference detected!
Wikia is a free-to-use site that makes money from advertising. We have a modified experience for viewers using ad blockers

Wikia is not accessible if you've made further modifications. Remove the custom ad blocker rule(s) and the page will load as expected.