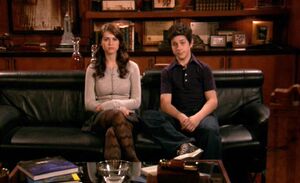 The premise for How I Met Your Mother is that Future Ted is telling his two children the story of how he met their mother, revealing more of the story in each episode. The son and daughter appear to be in their early teens in the year 2030.
The daughter is played by Lyndsy Fonseca, and the son is played by David Henrie. Their names are unknown, however it has been shown Ted wants to name them Luke and Leia, after the two Star Wars characters. (Milk and Landmarks) It's unknown whether he will stick to these names once he actually has children, or if The Mother will even agree to name the children that.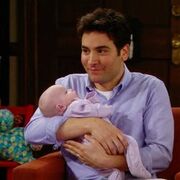 Throughout the episodes the kids are wearing the same clothes and sitting on the same sofa, except on the pilot episode, suggesting that perhaps Future Ted's story is not taking that long to tell. After the shows were picked up by the network they probably made changes in sets to make a nicer home for future Ted but did not re-shoot the pilot episode.
They have had little dialogue since first season, most likely because of the aging of Lyndsy Fonseca and David Henrie.
In Trilogy Time, it is shown that the daughter was born in 2015 which makes her age about 15 or 16. She is older than the son.
In Lobster Crawl, it is shown that Marshall and Lily took Ted's daughter to see Santa Claus as payback for taking Marvin to see Santa for the first time.
Notes and Trivia
Edit
As of Season 8, 117 out of 184 episodes begin with the word "kids" being said by the narrator (including Robin's narration from

Symphony of Illumination

).
On February 17, 2012, David Henrie said in an interview with the Insider that he and Lyndsy Fonseca had already filmed the series finale and additionally says, when questioned on it, that "fans would really appreciate the ending"[1]. 8 months later, On October 19, 2012, Lyndsy Fonseca said in an interview with The Huffington Post, in response to the question "Do you have any hunches on who the mother is?", she says "there was a time when we were told who it was and to never give the information out"[2].
At the 2013 San Diego Comic Con a video called Ted's Kids Like You've Never Seen Them was released to audience attending the How I Met Your Mother panel (and later the CBS website). This video shows the kids (Lyndsy Fonseca and David Henrie) grown up in 2038, eight years since Ted first started talking to the kids about how he met their mother in Pilot. The kids are shown to be furious at Ted for being stuck sitting on the couch for eight years and for getting off topic on the story. It should be noted that this clip is not canon.
References
Edit