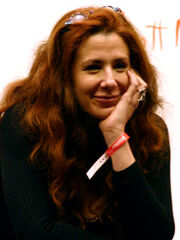 Suzie Plakson
(born June 3, 1958) is an American actress that plays
Judy Eriksen
,
Marshall's
mother, on
How I Met Your Mother
.
Biography
Born in Buffalo, New York, she grew up in Kingston, Pennsylvania and went to college at Northwestern University. She began her career on the stage/theater, and played four characters opposite Anthony Newley in a revival tour of Stop the World, I Want to Get Off. She also played "Marquise Theresa Du Parc" in the Broadway incarnation of the play La Bête.
Plakson has played a wide range of characters throughout her career. Her regular role in a television series was playing hard-bitten sportswriter Meg Tynan in the sitcom Love & War (1992); she did several voices on Dinosaurs (1991) and ultimately played four characters on various Star Trek series. There were other guest spots and recurring roles in sitcoms such as Mad About You (1992) and Everybody Loves Raymond (1996), while she was also acting in movies such as Disclosure (1994), Red Eye (2005) and Wag the Dog (1997). She wrote and performed an allegorical solo show, "An Evening with Eve".
As a singer/songwriter, Plakson just recently released the alternative country rock album "DidnWannaDoIt!" produced by Jay Ferguson.
External Links
Ad blocker interference detected!
Wikia is a free-to-use site that makes money from advertising. We have a modified experience for viewers using ad blockers

Wikia is not accessible if you've made further modifications. Remove the custom ad blocker rule(s) and the page will load as expected.