For the real Ted Mosby, see Ted Mosby.
Steve Biel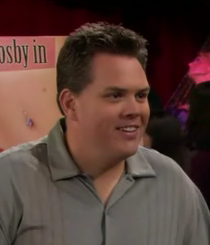 Portrayed by:
First appearance:
Also Known As:
Ted Mosby (pornstar name)
Home town:
Shaker Heights, Ohio
Occupation:
Porn star
Gallery of Steve Biel images (1)
Steve Biel
is a porn star who performed under the name
Ted Mosby
.
He rose rapidly to fame in 2007 making 125 movies in his first three months. Among his films are Welcome to the Sex Truck, Welcome to the Sex Plane, and Lance Hardwood: Sex Architect.
In 1984, when Steve was in fourth grade, a group of seventh graders were beating Steve up. He was rescued by Ted Mosby (then in ninth grade). He vowed to honor Ted when he made something of himself. Thus, he became a porn star and used Ted's name (although his father more reasonably suggested that Steve plant a tree in Israel in Ted's name instead).
Ted, uncomfortable with the adult-oriented fame, later told Steve that the person who saved him was actually named Lance Hardwood. Steve then honored that name by making the film: "Lance Hardwood: Sex Architect, Starring Ted Mosby" . (I'm Not That Guy)
External Links
Ad blocker interference detected!
Wikia is a free-to-use site that makes money from advertising. We have a modified experience for viewers using ad blockers

Wikia is not accessible if you've made further modifications. Remove the custom ad blocker rule(s) and the page will load as expected.