Do post in the comments what you think about this news.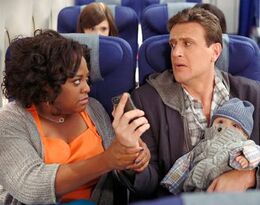 Rumor has it the ninth and final season premiere is tellingly titled "The Locket," and will introduce a potentially new female character with ties to… Marshall! Camille, described as an African-American or Latina female in her 30s or 40s, is seated next to Lily's other half on a flight from Minnesota > NYC. She becomes so annoyed with Marshal's erratic behavior that a confrontation ensues and they are both escorted off the plane prior to take-off.
In a promotional video, Lily is seen crying while the mother (Cristin Milloti) offers her cookies. And it has been confirmed that Lily was the one in the group who met the mother for the first time.[1]
Casting News
Wayne Brady will return as James Stinson for the season premiere.
Roger Bart has been cast as a guest star, described as "An employee at the hotel in Farhampton where Barney and Robin are set to tie the knot sometime this season" It is currently unclear how many episodes he will be in.
Sherri Shepherd is set to play Daphne, not much is known about her, but the writers have stated she will not get along well with Marshall.
John Lithgow is returning as Barney's father, Jerome Whittaker.
Ellie Kemper will play not play as Cassie, Kemper's was replaced by Anna Camp. Camp's character is "an attractive, available, and as Ted discovers unfortunate guest at Barney and Robin's wedding." She will appear in at least three episodes.[3]
In

Knight Vision

two new characters will appear: Reverend Lowell (an old mean minister who has agreed to marry Barney and Robin.) and Sophia (Robin's roommate from her college days.)
William Zabka is set to return, appearing in at least 8 episodes.[4]
Bryan Cranston is set to reprise his role as Hammond Druthers.[5]
Lin-Manuel Miranda is set to appear later in the season. [6]
Alan Thicke will return. [7]
Ashley Williams will reprise her role as Victoria in episode 19. [9]
It was confirmed that Lucy Hale will be returning as Robin's little sister Katie Scherbatsky in one of the remaining episodes. [10]
Episode Titles
Others
Filming began on 10th July, 2013
Questions for Fans
Is all of HIMYM's next season really going to take place in two days? — Karen
Yup. And exec producer Carter Bays tells me the premiere will also include a tiny time jump as well. "There's a time jump of some sort in every episode of this show, so you can rest assured the premiere will be no different," he says. "That being said, this next season in particular will feature some of the most non-linear episodes we've ever done." There will be some exceptions, though. Hello, flashback eps![26]
References