Sadie Stinson
is the daughter of
James Stinson
and his husband,
Tom
.
In The Rebound Girl, Barney and Ted decide to adopt a baby as bros. Later on, Barney enters The Apartment with a baby girl. At first Ted is worried where Barney got the baby from. However, he stops questioning Barney once he notices that the baby is attracting the attention of many women.
Later, Ted and Barney walk in to Marshall and Lily's house with the baby whom they have named Hurricane. Lily is shocked by this and asks where they got the baby from. While Barney is out to get diapers, Ted tells Lily why he and Barney decided to adopt a baby. Just then James and Tom arrive with their son, Eli.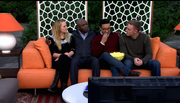 James tells them that the baby is their newly adopted daughter, Sadie, whom Barney was babysitting.
She appears again in Gary Blauman, along side her brother. She is listening to James tell them the story of how he met Tom.
Family
Ad blocker interference detected!
Wikia is a free-to-use site that makes money from advertising. We have a modified experience for viewers using ad blockers

Wikia is not accessible if you've made further modifications. Remove the custom ad blocker rule(s) and the page will load as expected.