For a listing of other articles related to Robin Sparkles, see Category:Robin Sparkles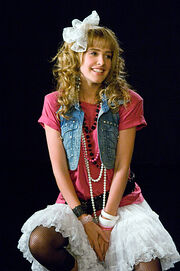 Robin Sparkles is teen-aged Robin Scherbatsky's alter ego which she used during her time as a Canadian pop star. The real world inspiration for the character is Canadian singer Alanis Morissette, who recorded two albums of pop music before turning toward more serious songs in the 1990s.
Show Outline
Edit
The existence of Robin's alter ego, Robin Sparkles, was first revealed in Season two's Slap Bet, when Robin refused to go to an event at a mall and also refused to reveal why. Due to Robin showing shame at the mention of why she disliked malls, Barney thought that Robin had been involved in porn. Marshall suggests that she hates malls because she had once gotten married at a mall in Canada, when confronted about this she went along with the story of having been married rather then reveal the truth, going so far as seamlessly inventing details of the band and the catering.
Still thinking Robin is involved in porn, Barney starts searching through Canadian porn which is successful when a person in Malaysia sends Barney the video he was looking for. He shows the video to the gang, which opens like porno but turned out to be the music video to her first song Let's Go To The Mall. Robin explains that she was a teenage pop star in Canada, and that for a year she had to visit malls across the country singing that song, Let's Go To The Mall.
Lets Go To The Mall Lyrics:
Let's go to the mall everybody! Go!  C'mon Jessica, C'mon Tori,  let's go to the mall you won't be sorry. 
Put on your jelly-bracelets,  and your cool graffiti-coat,  at the mall havin' fun is what its all about.
I haven't done my homework yet... That's okay. And you know how my parents get... Whatever. I don't care 'cause all my friends are gonna be there
Everybody come and play Throw every last care away Let's go to the mall... Today.
Chloe, mouse, I love it.
There's this boy I like, Met him at the food court. He's got hair like Gretzky and he does jumps on his skateboard.
I hope he asks me out, take me to my favourite spot. It'll be just him and me. But don't forget the robot.
Dad says I'm too young to date. Lame. But baby I don't wanna wait. I don't wanna wait. Let's do it. That's okay I'm gonna rock your body anyway. I'm gonna rock your body till the Canada Day.
Everybody come and play Throw every last care away Let's go to the mall... Today.
I went to the mall with a couple of friends. I had a whole week's allowance to spend. I want hoop earrings and a Benetton shirt. We came here to shop and we came here to flirt. I turned around and who should I see? Prime Minister Brian Mulrooney. He said, "Young lady I don't approve." So I had to get down and bust trés sweet moves. Hey Fred...c'mon...let's go to the mall!
Let's go to the mall everybody!
Everybody come and play Throw every last care away Let's go to the mall... Today.
Everybody loves the mall! Everybody come and play Yeah! Throw every last care away I love my hoop earrings. Let's go to the mall... Today.
Today. [ X 32 ] Let's go to the mall. [ X 12 ]
It is further revealed in Season three's Sandcastles in the Sand that Robin released another song, Sandcastles in the Sand, under the title of Robin Sparkles, but this song was not as successful as the first. The music video features Robin's ex-boyfriend Simon, Alan Thicke and 'Tiffany'.
The gang also found out in Season six's Glitter, that Robin had appeared on Canadian kid's show called Space Teens as her alter ego with her best friend back then, Jessica Glitter. The two teenagers used math to solve galactic problems, thanks to Alan Thicke.
Robin and Jessica used to sing The Beaver Song, a song about friendship, on the show.
In Season eight's P.S. I Love You, it is discovered by the gang that Robin had obsessed over some guy when she was younger. Barney goes to Canada and tracks down the guys she has dated. After encountering Simon once again, he tells Barney of the Robin Sparkle's episode of Underneath The Tunes. Barney obtains the tape and the gang watch it. They discover Robin hit her breaking point in February 1996, becoming Robin Daggers. In her obsession, she released a new track called P.S. I Love You. It is later discovered, although the video says that Alan Thicke was a popular idea of with whom Robin was obsessed with, it is actually Paul Shaffer.
Robin Daggers
Edit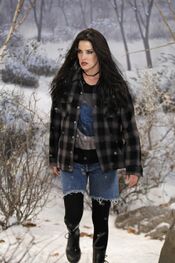 In 1996, Robin became obsessed with Paul Shaffer. She filled up her journals about him, and eventually got a restraining order. This also reflected on Robin Sparkles. In an interview with
MuchMusic
(as Robin Sparkles), she stormed out midway through the interview, saying, "I can't do this." Later, in the halftime show of the
84th Grey Cup
, Robin revealed to the spectators that Robin Sparkles is dead and that her new name is Robin Daggers. She took off her Robin Sparkles wig and jacket, revealing her new "Robin Daggers look", and started singing her song P.S. I Love You, which Dominant Records had refused to release, due to its dark nature.
Let's Go To The Mall was Ted's ringtone in

As Fast As She Can

.
In

Little Minnesota

, Marshall sings Let's Go To The Mall during karaoke, at the Hoser Hut.
Robin walks down the aisle to an instrumental version of Sandcastles in the Sand.
Robin sings Let's Go To The Mall at her wedding in a deleted scene: http://www.popsugar.com/entertainment/How-I-Met-Your-Mother-Robin-Sparkles-Deleted-Scene-35741481
Robin Scherbatsky's music career seems to be based on Alanis Morissette. Both were Canadian (forgotten) teenage pop-stars, heavily contrasting with their later fame in U.S. with much more adult-oriented audience. The fictional song 'PS I Love You' bears strong resemblance to Morissette's hit, 'You Oughta Know'. Also, there's some speculation about who was the inspiration behind Morissette's song, somewhat similar to the backstory of Robin's song. 
External links
Edit
Ad blocker interference detected!
Wikia is a free-to-use site that makes money from advertising. We have a modified experience for viewers using ad blockers

Wikia is not accessible if you've made further modifications. Remove the custom ad blocker rule(s) and the page will load as expected.