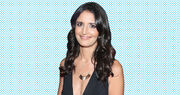 Robia Rashid is a writer and co-producer for How I Met Your Mother. She was also a story editor for eight episodes in Season 4 and the executive story editor for two episodes in Season 5.
Episodes Written
Notes and Trivia
Born 30 July, 1977.
She received her MFA in 2005 from New York University's Tisch School of the Arts Rita and Burton Goldberg Department of Dramatic Writing.
Robia was was given her job with How I Met Your Mother on her wedding day.
Robia got the inspiration for the episodes from her friend, Kashif.
References
External Links