Regis Philbin
Portrayed by:
Himself
First appearance:
Full name:
Regis Francis Xavier Philbin
Born:
August 25, 1931
Occupation:
TV presenter, Talk show host, Game show host, Actor, Singer
Gallery of Regis Philbin images (3)
Regis Philbin is an American media personality, actor and singer, known for hosting talk and game shows since the 1960s. Philbin is often called "the hardest working man in show business" and holds the Guinness World Record for the most time spent in front of a television camera. He is most widely known for Live! with Regis and Kelly, Who Wants to Be a Millionaire, Million Dollar Password, and for hosting the first season of America's Got Talent.
He appears as a fictionalised version of himself in The Best Burger in New York and is the former host of Million Dollar Heads or Tails.
In The Best Burger in New York, Marshall has tried every burger joint he can in an attempt to find the place with the 'best burger in New York', even meeting with Regis, who says he can't find where the place is either, and is also desperate to find it. He gives Barney his number so he can call him if he finds the joint.
When Robin says she knows the place, Barney texts Regis telling him where to find the place, causing him to leave a TV show recording. Unfortunately, Marshall says it's not the right burger.
At the end the gang reach the joint, and Marshall says it's the right place, the group enjoy their burgers, along with Regis.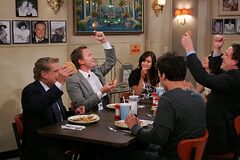 External Links
Ad blocker interference detected!
Wikia is a free-to-use site that makes money from advertising. We have a modified experience for viewers using ad blockers

Wikia is not accessible if you've made further modifications. Remove the custom ad blocker rule(s) and the page will load as expected.