Red Cowboy Boots
Comments

4
923
legendary pages on this wiki
Robin: Really, red cowboy boots?
Ted: I pull those off.
Marshall: Hey, Lil, if I said, "Ted cannot pull these off" what would I be talking about?
Lily: His red cowboy boots.

—The gang on Ted's Red Cowboy Boots,

Everything Must Go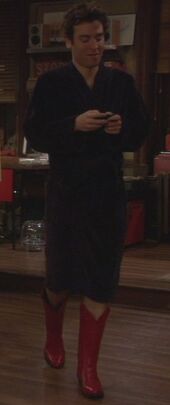 Ted's Red Cowboy Boots, as the name suggests, were a pair of red colored cowboy boots which are owned by Ted Mosby. He is under the impression that he can "pull them off", but everyone else thinks otherwise. They were finally destroyed at Weekend at Barney's when Jeanette burns them. Because this action led to Ted being ready to finally settle down, the Red Boots represent a life that he was finally ready to leave behind. 
The destruction of the Red Boots coincided with the destruction of Barney's The Playbook, an item that represented Barney's old life.
People who have worn the boots
Edit
Episode Appearances
Edit
Notes and Trivia
Edit
People believe that Ted cannot "pull them off", although a G-CWOK (Gay Couple Without Kids) have said he pulls the look off.