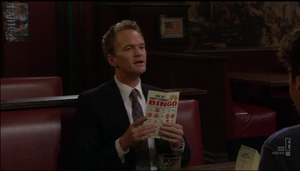 Party School Bingo
is a game devised by
Barney
. Every year, he takes the top twenty-five party schools in America (as determined each year by Playboy) and makes a bingo card. Every time he sleeps with a girl who's a student from one of these schools, he marks it on the bingo card. The aim is to get five squares marked in a row, to get "bingo" and win.
Barney tells Ted about party school bingo in the episode Three Days of Snow. As Barney is the only person playing, there is no real point or reward for winning, which Ted explains to Barney. However, Barney doesn't seem to care.
Notes and Trivia
Ad blocker interference detected!
Wikia is a free-to-use site that makes money from advertising. We have a modified experience for viewers using ad blockers

Wikia is not accessible if you've made further modifications. Remove the custom ad blocker rule(s) and the page will load as expected.