Oh Honey
Comments

5
861
legendary pages on this wiki
For Zoey Pierson's cousin, see Honey.
With Marshall stuck in Minnesota, the gang tell him about their time with Honey, Zoey's beautiful, naïve cousin, and about the new development in Ted and Zoey's friendship.
After his father's funeral, Marshall stays in Minnesota to help take care of his Mom. He gets a phone call from Robin, who explains what's been happening during his absence.
One night, when Robin was cooking dinner for the gang, Ted passes a bottle of ketchup to Zoey which she drops, smashing it. Although Ted asks her to go out to buy a new bottle, Ted agrees to go out and get it himself. In return, Zoey sets him up with her hot cousin, Honey.
Since Marshall has never met Honey, Robin describes Honey to Marshall as being a warm, beautiful girl, but being very naïve and gullible. The gang meets her at MacLaren's, and as the night goes on, everyone eventually leaves but Ted and Barney. Things are going really well between Ted and Honey, and she suggests they go back to his place. However, Ted declines. Instead, he lets Barney take her home.
Once back at The apartment, he reveals to Robin why he didn't go home with Honey; because he's in love with Zoey. When he went to pass her the ketchup earlier, their hands touched causing Ted to drop the bottle and realize what he feels for her is more than just friendship. Since Zoey's married, Ted hosts an intervention for himself and asks the gang for advice.
Marshall gets a call from Barney, and puts Robin on hold to speak with him. Barney summarizes his night with Honey, and then explains how, outside GNB, he ran into Zoey, and Zoey hugged him once she found out Ted didn't sleep with Honey. He doesn't know why, until Marcus, who has been listening in on Marshall's entire conversation, interrupts and tells them that Zoey must love Ted too.
Marshall quickly calls Ted to share the news, but Ted stops him and reveals he told Zoey they couldn't be friends anymore because Lily hates her. Lily calls Marshall, and explains that Zoey arrived at their apartment to find out why Lily hates her. In doing so, she reveals she's been going through a difficult time. Lily passes the blame on by saying it's Robin who really hates her. Robin quickly calls Marshall and explains that she passed the blame on too, by saying it's Marshall that really hates her.
Marshall gets a phone call from an unknown number, and is convinced it's Zoey, but when he answers it, Honey is on the phone. She explains how Barney left his cell phone at her apartment and called Marshall through the phone's contact list to find a way to give it back to him.
Honey reveals how, back at her apartment, Barney began to cry about his Dad. Barney recently tried to contact him, pouring his heart out in a letter, but his dad hasn't tried to contact him back.
Marshall manages to trick Honey into revealing that Zoey is in the process of divorcing The Captain. He calls his family into the bedroom, explaining how Ted and Zoey both love each other (but don't know the other one does) and that Zoey is no longer married. They agree that Marshall has to call them and let them know how the other one feels.
Meanwhile, Zoey arrives at The apartment, demanding an answer for why they're no longer friends. Ted lies, and says he hates her. As Zoey leaves, Marshall calls Zoey, and then Ted, and tells them that the other one loves them. They reconcile and begin to kiss, while an ecstatic Eriksen family celebrates.
Continuity
Edit
Footage from the past episodes

Last Words

,

Architect of Destruction

and

Blitzgiving

is replayed.
On the back wall of Marshall's childhood bedroom is a picture of the Loch Ness Monster. His fascination with it has been well established in

Nothing Good Happens After 2 A.M.

,

Columns

,

I'm Not That Guy

and by having his honeymoon in Scotland to try and capture it.
It was hinted at the end of

The Mermaid Theory

that Ted and Zoey would begin to develop feelings for one another.
The Intervention Banner makes another appearance. It was seen previously in

Intervention

and

Right Place, Right Time

.
Future Ted can't recall Honey's real name. He previously had trouble remembering the name of a girl (Blah Blah) in

How I Met Everyone Else

.
The "Who's your Daddy?" line from

Baby Talk

is used by Barney once more.
Ted lies to Zoey, saying that Lily hates her. When Lily hears this, she tells Marshall to start hating Ted. In

Blitzgiving

, she tells the gang to hate Kate Hudson, which they agree to, and Ted reveals he's hated Renee Zellweiger for years because Lily told him to.
Barney lies to Marshall about his night with Honey. Barney previously admitted, in

Zoo or False

, that he'll lie about things that happen to him to make the story better.
Barney complains that too many "crazies" had his old phone number. Barney previously displayed his phone number on national television during the Superbowl in

Rabbit or Duck

, and girls never stopped ringing him.
Ted's hallway neighbor, Mrs. Matsen, makes her second appearance (her first being in

As Fast As She Can

). Both times, she was eavesdropping on Ted's conversations.
Barney reveals he tried to contact his father, who he discovered the identity of in

Natural History

and decided he was ready to meet in

Last Words

.
In

The Rough Patch

Ted calls Meg "Oh, honey", also referencing her naïve nature, when she thinks Barney it's going to propose to her.
Barney tells Honey that he plays for the New York Yankees, which is what he told the waitress Robin helped him hook up with in

Do I Know You?

.
For a listing of all images on the wiki tagged as being from this episode, see Category:Oh Honey images.
Memorable Quotes
Edit
Honey

:
My apartment building is so safe. My landlord even installed a security camera in my shower.

Marshall

:
Oh, honey...

Honey

:
Maybe I should feel weird about giving a stranger my Social Security Number, but the guy's a Nigerian prince!

Marshall

:
Oh, honey...

Honey

:
I just had a great TV audition...behind the KFC where the executive producer works on the weekend.

Marshall

:
Oh, honey...
---
Honey

:
Long story short, I'm going to be on Lost!

Marshall

:
Oh, honey!
---
Barney

:
Who's your daddy?

Honey

:
Oh heh heh, who's your daddy?

Barney

:
I don't know! (sobs)
---
Barney

:
But, as per ush[usual], he [Ted] bored the pants very much on her!
---
Barney's Ted

:
Blah blah blah, I'm an architect! Blah blah blah, I don't wear suits! Blah blah blah blah blah blah blah...

Barney's Honey

:
(sarcastically) Wow! An architect... How fascinating...

Barney's Ted

:
Blah blah blah blah, rambling architecture anecdote! Blah blah, something about a bridge! Blah blah...
---
Notes and Trivia
Edit
Goofs and Errors
Edit
Robin says that she burned the dinner because she mistakenly thought the temperature of the oven was given in Celsius. However, a given temperature (such as the temperature for cooking) is generally a higher numerical value on the Fahrenheit scale than in Celsius. Thus by assuming the oven was labeled in Celsius, Robin should have set the heat too low and undercooked the food.
Allusions and Outside References
Edit
Other Notes
Edit
A week before the episode aired, Neil Patrick Harris shared a link to the promo videos: Link[1]. Katy Perry also posted the same videos. However, the videos did not have a studio audience and it was in post-production at the time.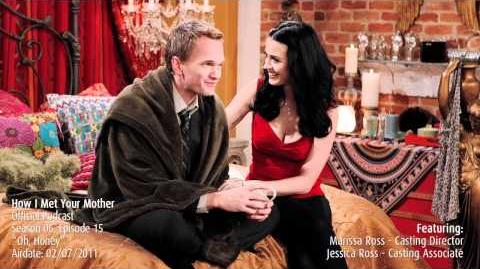 Featuring an interview with Marisa Ross and Jessica Ross.
Reception
Edit
This episode premiered to 9.997 million viewers. [2]
Donna Bowman at the The A.V. Club gave the episode an A-. [3] "I sense a steady hand at the wheel, I am moved by Ted acting on his feelings even though I know this is a complication rather than a solution, and I'm very glad that HIMYM is back and moving forward toward what I expect to be quite a momentous Season 6 endgame."
DeAnn Walker at Television Without Pity gave the episode an A-. [4]
Eric Goldman at IGN gave the episode a 7.5 out of 10. [5] He believed "This wasn't an especially funny episode, though it had some amusing moments.", and commended Katy Perry on her performance as Honey. On the topic of Ted and Zoey, due to the fact that Big Days has ruled out Zoey as the mother, he said "it's almost impossible to get too invested in any other romance for him any longer, because we know it's doomed at this point."
References
Edit
External Links
Edit