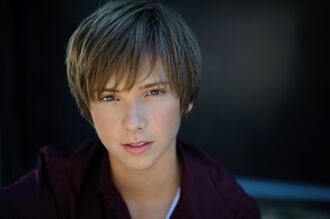 Noah Schnacky
is the actor that played
Robin
's imaginary son in
Symphony of Illumination
.  
Biography
Represented by Abrams Artists Agency in Los Angeles, born in Minneapolis, Noah moved to Orlando, Florida soon after his first birthday. He is the oldest of four children with sisters Allie, Ella and Noelle. He began his acting career at the age of five in a production of "Gabriel's Christmas Story". Noah has continued being cast in commercials, film, print work, live vocal performances, voice over and theatre throughout Florida and the Southeastern United States. For a seven years, this "Radio Disney Kidcaster"- "The Schnackster" hosted the Saturday morning talk show, "Kids Concerns". Noah resides in both Los Angeles and Orlando.
In addition to his acting career, Noah is also a talented vocalist/musician and songwriter-Youtube- Noah Schnacky Official and Noah Hitstreak. Noah studied voice under vocal coach, Mark Goff whose prior credits have included assisting with the careers of The Backstreet Boys, N Sync, O-Town, Britney Spears and Creed.He was Razor & Tie Production's top male vocalist of 35,000 contestants in the 2010 Kidzstar USA talent search. He plays both the electric and acoustic guitar. Noah was the lead character on the TV mobile series, Hitstreak (see app store for Showmobile) and his most recent film, A Turtle Tale, where he plays the main character, Calvin, is in post production soon to be released in Theatres.  
Noah has established his niche as the next up and coming, @RyanSeacrest, hosting a variety of programs including but not limited to multiple episodes of:  EA Sports Gametime, Disney Marvel, Disney "In 60 Sec", including his interview with Sir Anthony Hopkins and Kenneth Branagh on the Set of "Thor".   
A brilliant future before him, Noah is an experienced "emcee", co-hosting with well known speakers such as @SimoneTBailey and @MawiAsgedom for the Opening Doors to the World Annual Gala for FLVS. He is the annual host for @DreamBigFoundation Fundraiser with TV news personality @JimPayneWESH. Additionally, he is a regular speaker in the National School system with DARE, FCA and Teach-IN inspiring our youth to "set goals and achieve big things" at a young age.
Noah's original single "Miami to LA" with 1M views + was featured by J-14 Magazine as the best song of the summer for 2014!  
External Links