Neil Patrick Harris
Comments

17
860
legendary pages on this wiki
Neil Patrick Harris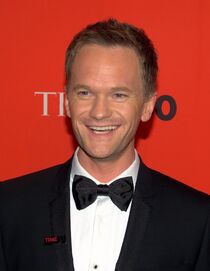 Born:
June 15, 1973
Albuquerque, New Mexico, U.S.
Occupation:
Actor, musician, director, magician
Years active:
1988–present
Character:
External Links:
Neil Patrick Harris (born June 15, 1973) is the American actor who portrays Barney Stinson on How I Met Your Mother.
In addition to that role, he is best known for the title role in Doogie Howser, M.D. (which is occasionally alluded to on HIMYM). He also portrayed a fictionalized version of himself in the Harold & Kumar films and starred as the sympathetic villain Dr. Horrible in Joss Whedon's Emmy Award-winning musical web series Dr. Horrible's Sing-Along Blog.
Harris hosted the 63rd Tony Awards on June 7, 2009, the 61st Primetime Emmy Awards on September 20, 2009, and the Video Game Awards on Spike TV on December 11, 2010.
In addition to acting, Harris also directed the episode Jenkins.
Notes and Trivia
Edit
Neil Patrick Harris is engaged to David Burtka (who plays Scooter). The two have twin children born October 12, 2010. [1]
References
Edit
External Links
Edit