Mystery vs. History
Comments

6
862
legendary pages on this wiki
The gang intervenes in Ted's business when he fails to gather information online about a woman he is going to date. Meanwhile, Marshall and Lily decide not to find out the sex of their baby, but they are tempted when they are setting up the baby's room.
When Ted decides to go on a date with a woman named Janet McIntyre without researching her, Barney and Robin attempt to intervene by researching Janet for him, which Ted insists that they do not. Ted explains to Kevin that Robin and Barney have researched many of the women he dated in the past and ruined the relationships by revealing unappealing background information on them. Before his date with Janet, he makes a deal with her that they will not research each other on the Internet, which she agrees to.
In the meantime, Marshall and Lily recruit Barney, Robin, and Kevin to help paint the room for their baby. Though they have obtained the information on the sex of their baby, they choose not to open the envelope containing the information so that the baby's sex will be a surprise when it is born. Barney disagrees with their decision and tries to convince them to open the envelope, arguing that there are advantages to knowing what the child's sex will be. When everyone begins arguing about whether "mystery" is better, Kevin calls them out on their behavior. He admits that while he did not want to analyze them, he has noticed that everyone in their group is unreasonably close and have been meddling too much in each others lives. While Kevin's assessment appears to be true, it causes a rift between him and Robin, which he attempts to make up for by offering to paint the rest of the room by himself.
During the painting session, Barney and Robin have insisted on continuing their research on Janet for Ted. Through their research, they learn a number of startling things about Janet which they attempt to share with Ted. Marshall eventually allows Barney to learn the gender of the baby if he does not tell him and Lily, but Barney eventually convinces them to look, only to rip the card in half and refuse to give the half with the information back to Lily and Marshall. Barney agrees to give it to them if they look at what he and Robin have learned about Janet. When Marshall gets the card, he and Lily are unable to firmly decide if they want to know, and Marshall ends up throwing the card out the window for the sake of "mystery."
Meanwhile, Ted is having trouble conversing with Janet without the use of the Internet during their date. Despite initial attempts to resist everyone's insistence that he should look her up on the Internet, he gives in and learns that she is extremely accomplished. Ted becomes nervous and Janet leaves him, recognizing that his sudden change in behavior means that he has learned about all her achievements and he has become intimidated by her like everyone else who dates her. After he rejoins his friends, Ted tells them that he regrets giving in and that he would rather have "mystery" over "history" for his future dates. When Ted puts his foot up on a stool, Marshall notices that the card he threw on the window had stuck to Ted's shoe; he and Lily learn that their baby will be a boy.
Continuity
Edit
Barney is still wearing ducky tie from the previous episodes.
The title of this episode is shown on the New York magazine in

The Best Man

and

The Naked Truth

. It says "Mystery Vs History: Is It Better Not to Know?".
Ted mentions his parents' divorce, which happened in

Brunch

.
Robin started dating Kevin in

Field Trip

.

Last Cigarette Ever

previously revealed that Lily and Marshall have a son.
Barney exclaims, "They're six minutes into the date; Ted's probably already told her that he loves her!" This references Ted and Robin's first date in

Pilot

as well as Ted's reputation of moving too quickly with women he is interested in, and also "The Mosby," a term coined in

The Leap

.
Robin's flashback to her fourteenth birthday references her father raising her as a boy, first revealed in

Happily Ever After

. Two years later, she "moved in with her mother, grew her hair out, and became a teen pop star in Canada" (first mentioned in

Slap Bet

).
The song "Murder Train" by the Foreskins, which is first referenced in

Sandcastles in the Sand

, makes a return in this episode. The flashbacks used in the song detail all physical altercations shown in the series so far, including all four slaps, Ted's low blow from

The Goat

, Lily throwing a drink in Barney's face in

The Scorpion and the Toad

, Robin at the shooting range, and more.
In the opening sequence, Chester R. has a picture with the caption "Boats Boats Boats!", referring to a commercial that Robin's coworker Becky made in the episode

Canning Randy

.
For a listing of all images on the wiki tagged as being from this episode, see Category:Mystery Vs. History images.
Memorable Quotes
Edit
Ted

:
I don't want a background check. I want adventure and excitement. Look, if it's a choice between mystery and history, I want mystery.
---
Ted

:
So, while this font is often mistaken for Helvetica, the fact is... it's Helvetica Bold.

(thinking)

:
I can actually hear the sound of her vagina being boarded up.

Ted

:
I got to be honest, Janet. First of all... this is Times New Roman..
---
Marshall

:
Lily Pad? We're having a boy!
---
Ted

:
The date with Nadine went great. Unless you guys found something.

Barney

:
Are you sitting down?

Ted

:
No... (He sits down)

Robin

:
She's wanted in Florida on Crystal Meth charges.

Barney

:
She breeds pitbulls for dog fighting.

Robin

:
Also, the FBI has...

Ted

:
What's this link?

Robin

:
Oh, she also writes online movie reviews. Anyway, she's still married to a death row inmate convicted for...

Ted

:
She gave Annie Hall two out of ten stars? "Slow and overrated"!?

Robin

:
Really? That's your takeway?

Ted

:
It's the Woodman at the height of his powers! The way he broke the fourth wall by talking directly to camera... people have been ripping that off ever since.

Robin

:
(looking at the camera) Can you believe this guy?
---
Ted

:
Paula Vincenzo. She's in the bathroom. What's wrong with her?

Robin

:
Total psycho. Her Facebook wall has a link to a site about dating inanimate objects. For most of last year, she was engaged… to a mini fridge.

Barney

:
And there's pictures. Her and the mini fridge on a hike. Her and the mini fridge in wine country. There's the mini fridge meeting her parents.

Robin

:
Run like the wind!
---
Notes and Trivia
Edit
Goofs and Errors
Edit
Lily was not even through her first trimester, so she and Marshall should not have been able to find out the gender of the baby at this time.
Barney showed Ted naked pictures on his laptop, but Ted did not make his naked lady noise.
Barney's slideshow is projected on a wall but there was no projector to show the slideshow.
Allusions and Outside References
Edit
Other Notes
Edit
In Barney's Slideshow, the first two babies were, Gideon Scott Burtka-Harris and Harper Grace Burtka-Harris, Neil's and his partner, David Burtka's, actual children in real life.
Eleanor Seigler - Mia Plumley
Rachel Sterling - Paula Vincenzo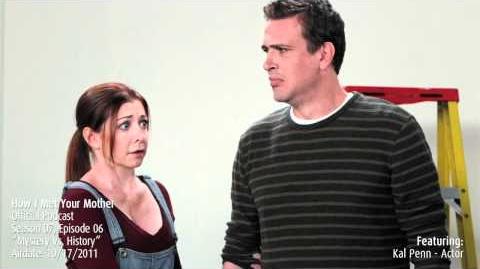 Featuring an interview with Kal Penn.
Reception
Edit
The episode received 9.81 million viewers.[1]
Donna Bowman of the AV Club gave the episode a B+[2].
Robert Canning of IGN gave the episode, saying that the episode "felt like How I Met Your Mother trying too hard."He also added "while the main storyline started interestingly but faltered, there was little to get into with the rest of the episode."[3]
Chris O'Hara of TV Fanatic gave the episode 4 out of 5 stars[4].
References
Edit
External Links
Edit