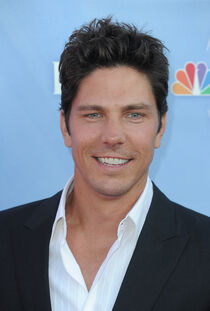 Michael Trucco (born June 22, 1970) is an American actor who plays Nick, a love interest of Robin, on How I Met Your Mother.
Biography
Trucco has made a few appearances in episodes of Touched by an Angel, Silk Stalkings, Beverly Hills, 90210, Dr. Quinn: Medicine Woman, and Pensacola: Wings of Gold, CSI, Heartbeart, Strong Medicine, CSI: Miami, Law & Order: Special Victims Unit, The Big Bang Theory, Castle among others.
He played Cooper Lee in six episodes of One Tree Hill from 2005 to 2006. In 2002, Trucco starred in Wishmaster 4: The Prophecy Fulfilled. In 2005, he joined the drama Battlestar Galactica in the role of Samuel T. Anders.
In 2010, Trucco was cast as a series regular in the USA Network series Fairly Legal.
External Links
Ad blocker interference detected!
Wikia is a free-to-use site that makes money from advertising. We have a modified experience for viewers using ad blockers

Wikia is not accessible if you've made further modifications. Remove the custom ad blocker rule(s) and the page will load as expected.