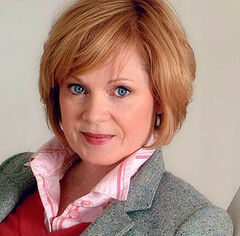 Meagen Fay
(born in 1957) is an American actress who plays
Janice Aldrin
,
Lily Aldrin
's mother on
How I Met Your Mother
.
Biography
Meagen Fay was born and raised in Chicago, Illinois, studied classical theatre abroad, and served her apprenticeship in the theatre in Dublin, Ireland. After garnering rave revues for her work in The Dublin Theatre Festival production of "Lysistrata", Meagen returned to the States and became a part of Chicago's burgeoning 'Off Loop' Theatre scene of the late 1970's and early 80's. There she won several Joseph Jefferson Awards for her work including: The Court Theatre production of "A Day in the Death of Joe Egg", and "Exit the King", as well as being named 'Best New Actress' by The Chicago Sun Times for her performance in "Hide and Seek" at the Body Politic Theatre.
Meagen was invited into the resident company of The Second City by famed producer Bernie Sahlins and was again awarded a Joseph Jefferson Award for her work in the review entitled, "Orwell That Ends Well" which she also performed in New York at The Village Gate Theatre. In New York, Meagen went on to star with F. Murray Abraham and Peter MacNicol in The Public Theatre's Shakespeare in the Park, as well as appearing in Broadway and Off-Broadway Productions.
Meagen traveled to Los Angeles and The Mark Taper Forum with The Second Stage production of "LOOT" under the direction of John Tillenger. She began her television career in earnest as a regular on Carol and Company starring Carol Burnett while also recurring on Roseanne starring Roseanne Barr.
More recently, Fay has had recurring roles on Malcolm in the Middle and The Bernie Mac Show, and has guest starred on Six Feet Under, Nip/Tuck and Desperate Housewives.
External Links
Ad blocker interference detected!
Wikia is a free-to-use site that makes money from advertising. We have a modified experience for viewers using ad blockers

Wikia is not accessible if you've made further modifications. Remove the custom ad blocker rule(s) and the page will load as expected.