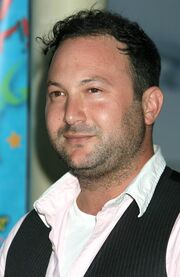 Matt Boren is an American actor who plays Stuart on How I Met Your Mother.
Filmography
The Booth at the End - Willem (2011)
Special Ops - Ari Matthews (2010)
How I Met Your Mother - Stuart (2006-2010)
Hatchet Man (short) - Ted (2009)
Momma's Man - Mikey (2008)
Mute (short) - Cameraman (2005)
Dead Doll - Dave (2004)
Nobody Needs to Know - Jonah (2003)
Just Shoot Me! - Nicholas (2002)
Pranksters - Bluto (2002)
Alex in Wonder - Matt (2001)
Sabrina, the Teenage Witch - Lance (2000)
Trivia
Matt Boren appeared with Kal Penn on Sabrina, the Teenage Witch in the episode "You Can't Twin", Kal would later appear on How I Met Your Mother as Kevin Venkataraghavan.
External Links
Ad blocker interference detected!
Wikia is a free-to-use site that makes money from advertising. We have a modified experience for viewers using ad blockers

Wikia is not accessible if you've made further modifications. Remove the custom ad blocker rule(s) and the page will load as expected.