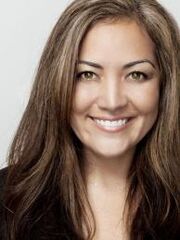 Kourtney Kang
is a writer for
How I Met Your Mother
.
Episodes Written
Everyone has an example: Marshall did a high school classmate's homework and was her "secret boyfriend", Robin allows her pre-morning show cameraman to pamper her, and Lily's high school flame, Scooter (David Burtka), works at her school as cafeteria staff, where she doesn't exactly tell him that a romantic relationship is impossible.
Ted refuses to believe that he has been hooked, and continues waiting for Tiffany. When she shows up to the bar with her co-workers, Barney is excited to see that she and all her friends are pharmaceutical representatives, which he calls the "hot-chick" profession of their generation (like the nurse or stewardess was in the past).
All the while, Ted himself has "hooked" Henrietta, a librarian from Columbia. Henrietta treats Ted just like he treats Tiffany, even assembling an elegant dinner when he drops by. Ted is just as dismissive of Henrietta as Tiffany is of him. Ted is invited to go to a wedding with Tiffany, which he sees as a sign of commitment, so he meets her in the room with champagne. However she enters with the best man, the guy who has "hooked" her. Ted leaves, intent on making sure Henrietta doesn't feel the same heartbreak.
Unfortunately, he took the best man's jacket by accident, which had the wedding ring inside. Bending over at Henrietta's door to tie his shoes, the ring falls out, and Henrietta opens the door to see Ted down on his knee, in a tuxedo, with a ring in his hand. She says yes, and introduces him to her visiting parents. Ted explains what has happened and that they will never be together.
Meanwhile, Marshall tries to get Lily to let Scooter know she is never going to be with him, but she is immobilized by Scooter's puppy-dog eyes. Marshall uses Barney's teacup pig (in a cute blanket) to train Lily to resist Scooter. Eventually, it works, and the two head down to the cafeteria, but even though Lily is able to tell Scooter it will never happen, Marshall himself can't resist Scooter's charm, telling him to just wait until he is dead.
External Links
Ad blocker interference detected!
Wikia is a free-to-use site that makes money from advertising. We have a modified experience for viewers using ad blockers

Wikia is not accessible if you've made further modifications. Remove the custom ad blocker rule(s) and the page will load as expected.