Katie Scherbatsky
1,017
legendary pages on this wiki
Comments

35
Katie Scherbatsky is Robin's younger sister. She goes to New York to visit Robin in First Time In New York.
Show Outline
Edit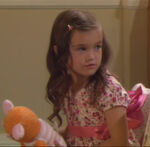 Robin takes it hard when she finds out that Katie is planning to lose her virginity to Kyle, a fellow teenager. She tries to talk sense into Katie but fails. Along with the prospect of having sex, Katie shows several signs of a teenager experimenting with adult habits, such as smoking and drinking. By the end of the episode, Ted is the one who convinces Katie to wait before having sex with Kyle by showing her that even apparently nice guys his age put sex as a priority before everything else. When Katie tells Kyle she wants to wait, he breaks up with her. Katie takes the break-up hard and pours her heart out to her big sister, but ends up having a great first time in New York.
Back home, Katie sleeps in Robin's old room, where she has found her sister's diary and learned how Robin lost her virginity to Brian, her old friend who wanted to know if he was gay by having sex with Robin.
She also briefly shows up in a flashback Little Boys, as an example of how her sister, Robin, hated kids.
On the day of her sister's wedding , she is seen playing hockey with Robin and watching The Wedding Bride Too along with the gang in Vesuvius.
Episode Appearances
Edit
Little Boys

(flashback)
Notes and Trivia
Edit
References
Edit
External Links
Edit