Karen
was
Ted
's on-again-off-again girlfriend throughout high school and
college
. She was referenced in numerous flashbacks before she finally appeared in
Sorry, Bro
.
Show Outline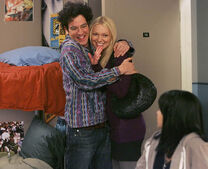 Karen and Ted broke up for the first time in college before winter break of Ted's freshman year. While dating him in college, Karen cheated on him with her Philosophy professor.
Both Marshall and Lily hated Karen because of her incredible pretentiousness and her tendency to bring it out in Ted. Lily admitted that she particularly hated Karen because she "lingered" her gaze on a nude Marshall when she walked in on Lily doing a nude portrait of him. They also hated her because she frequently cheated on Ted.
In 2009, Karen and Ted started dating again, even cheating on her boyfriend at that time with Ted, until she finds Robin's earring in Ted's bed. Later Ted discovers that Lily was responsible and has been meddling with his relationships for years. She and Ted reconcile after Lily confesses the truth to Karen. When Karen expects Ted to never see Lily again, however, he breaks up with her for good, deciding that while it doesn't matter what his friends think of his girlfriend, it does matter what his girlfriend thinks of his friends. (The Front Porch)
Episode Appearances
External Links
Ad blocker interference detected!
Wikia is a free-to-use site that makes money from advertising. We have a modified experience for viewers using ad blockers

Wikia is not accessible if you've made further modifications. Remove the custom ad blocker rule(s) and the page will load as expected.