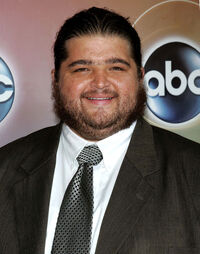 Jorge Garcia (born April 28, 1973) is an American actor who plays Steve "The Blitz" Henry on How I Met Your Mother.
Biography
García was born in Omaha, Nebraska. He grew up in Southern California and went to San Clemente High School.
García was the first actor to be cast on Lost. He had originally auditioned for the role of Sawyer; however, the producers saw him on Curb Your Enthusiasm the night before casting began, and created the character of Hurley specifically for him.
In 2011, Garcia appeared as a recurring character in Mr. Sunshine, portraying a caretaker at the Sunshine Center.
In 2012, Garcia portrayed Dr. Diego Soto, an Alcatraz expert, in the series, Alcatraz. The series was officially cancelled by Fox on May 9, 2012.
External Links
Ad blocker interference detected!
Wikia is a free-to-use site that makes money from advertising. We have a modified experience for viewers using ad blockers

Wikia is not accessible if you've made further modifications. Remove the custom ad blocker rule(s) and the page will load as expected.