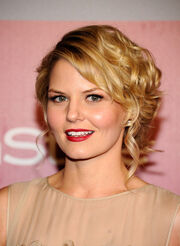 Jennifer Morrison
(born April 12, 1979) is an actress, model and filmmaker. She is the actress that portrays
Zoey Pierson
. She is best known for for her roles as
Dr. Allison Cameron
in
House
, as Winona Kirk in the 2009
Star Trek
film, and as Emma Swan from abc's Once Upon a Time.
She made her film debut at the age of fifteen as the daughter of Richard Gere and Sharon Stone in the 1994 film, Intersection, and later appeared as Samantha in Stir of Echoes with Kevin Bacon in 1999. Her first leading role came in the 2000 film Urban Legends: Final Cut, and she has since gone on to appear in films including Grind with Adam Brody, Surviving Christmas with Ben Affleck and James Gandolfini, and Mr. & Mrs. Smith with Brad Pitt and Angelina Jolie in 2003, 2004 and 2005, respectively.
In the fall of 2010 Morrison appeared as a guest-star in the fourth episode of NBC's Chase. She played the role of Faith, a single mother-turned-fugitive, who embarks on a bloody killing spree across Texas with her daughter in tow.
She joined the cast of CBS's How I Met Your Mother as recurring character Zoey Pierson, a mischievous architecture nerd and love interest of main character Ted Mosby, and "the biggest female character we've maybe ever added to the show in Ted's life", according to executive producer Craig Thomas.
She was in a lead role as Emma Swan in Once Upon a Time from 2011 - 2017.
External Links
Ad blocker interference detected!
Wikia is a free-to-use site that makes money from advertising. We have a modified experience for viewers using ad blockers

Wikia is not accessible if you've made further modifications. Remove the custom ad blocker rule(s) and the page will load as expected.