Jen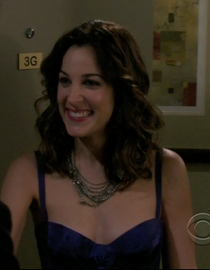 Portrayed by:
First appearance:
Occupation:
Between jobs. Previously a banker and internet entrepreneur.
Romances:
Gallery of Jen images (1)
Jen
is a girl who went on a blind date with
Ted
in
Double Date
.
Show Outline
Edit
In 2009, Jen and Ted meet for a blind date. However, partway through the date, they both realized they had a blind date with each other nearly seven years earlier, that they had both previously forgotten about. To figure out what went wrong, they decide to spend the night retracing the steps from their first date.
Even though the night is a success, and they learn a lot from one another about all the wrong things they do on first dates, they decide not to see each other again.
Notes and Trivia
Edit
Jen enjoys dressing up her many cats in costumes.
In S7E6 Mystery vs. History, Jen can be seen at the table behind Ted during his date with Janet Mcintyre
External Links
Edit