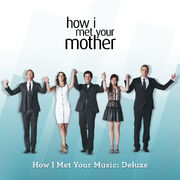 The How I Met Your Music: Deluxe was released on iTunes on the 23rd of September 2014. It contains 14 tracks which run for 30 minutes.
Tracklist
"You Just Got Slapped" - Boyz II Men
"Night Night, Little Marvin" - Jason Segel & Alyson Hannigan
"On the House" - Cobie Smulders
"Asking Out Lily Pts. 1 & 2" - Jason Segel
"Soul Bang" - Sam Moore
"P.S. I Love You" - Robin Daggers
"La Vie En Rose" - Cristin Milioti
"You're All Alone" - John Swihart
"And There She Was" - The Solids & John Swihart
"Mmmm Mmmm Mmmm Mmmm [HIMYM Version]" - Wayne Brady & Alan Thicke
"Barney Makes 3 Pts 1 & 2" - Francis Conroy, John Lithgow, Ben Vereen, Neil Patrick Harris & Cobie Smulders
"The Robin" - John Swihart
"Doppelganger's Tango" - John Swihart
External Links
Ad blocker interference detected!
Wikia is a free-to-use site that makes money from advertising. We have a modified experience for viewers using ad blockers

Wikia is not accessible if you've made further modifications. Remove the custom ad blocker rule(s) and the page will load as expected.