The Hot/Crazy Scale is a graph used to display someone's hot-to-crazy ratio. As Barney explains in How I Met Everyone Else, a person is allowed to be crazy, as long as they are equally hot. Ideally, you want your date to be above the diagonal line, indicating that they are hotter than they are crazy. There does appear to be some bias however, as shown by Barney's diagram, which indicates that someone who is the maximum level of crazy does not have to be the maximum level of hot in order to be equal to/above the diagonal line.
The diagonal line is known as the Vicky Mendoza Diagonal by Barney, after a girl he dated who jumped back and forth across the line by shaving her head, then losing ten pounds, then stabbing Barney with a fork and finally getting a boob job.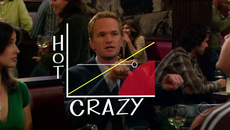 The bottom-right corner of the scale is dubbed the Shelly Gillespie zone by Barney, after another girl he dated who fell into that area after gaining twenty pounds and trying to kill him with a brick.
Barney explains the Hot-Crazy scale to the gang after Ted introduces them to Blah Blah, his crazy girlfriend at the time.




Notes and Trivia
When Barney tracks how Vicky Mendoza's actions affect her position on the Hot/Crazy scale, some errors occur. Her actions do not correspond to what Barney draws on the graph (e.g. when she gets a boob job, Barney draws an decrease in craziness instead of an increase in hotness). If the Hot and Crazy axes had been switched this would have been correct from Barney's point of view (since he is facing the audience and therefore looking at a backwards version of the graph), but for the rest of the show the demonstrations using the graph are correct from the audience's point of view.
The Hot/Crazy Scale is discussed in article 86 of The Bro Code.
In

Shelter Island

, the Hot/Crazy Scale is briefly seen in Barney's calculations.
The Mendoza Diagonal is an allusion to the Mendoza Line, a baseball expression for measuring a hitters adequacy.
The "Hot/Crazy Scale" is now being used in a modified form by Dana C. McLendon III and renamed the "Hot/Crazy Matrix".
Ad blocker interference detected!
Wikia is a free-to-use site that makes money from advertising. We have a modified experience for viewers using ad blockers

Wikia is not accessible if you've made further modifications. Remove the custom ad blocker rule(s) and the page will load as expected.