Hopeless
Comments

4
862
legendary pages on this wiki
When Barney tries to bond with his father, he asks the gang to help make his life seem more exciting by lying about their own lives. Meanwhile, Robin runs into a guy she has a crush on.
In 1983, Jerome Whittaker, known to Barney as his "Uncle Jerry", tells Barney that his mother thinks he is a bad influence on Barney and doesn't want them to spend time together anymore. Jerry asks Barney for the souvenir button they got from a rock concert together, and using a sleight of hand magic trick, claims he just hid the button inside Barney's brain, so that Barney won't forget him. Jerry says his final words to Barney - "Never stop partying" - before he leaves.
Barney didn't see Jerry again until 2011, however this time Barney was the one to walk away. However, a few weeks later, Barney meets the gang at The apartment, complaining that his Dad is now a boring suburban Dad, when he used to be "Crazy Jerry", an awesome party animal. Barney decides to plan for his Dad the "awesomest" night of all time on Saturday night, to bring back Crazy Jerry.
Saturday night comes, and Barney meets the gang down in MacLaren's Pub before his Dad arrives. To make the night more awesome, he tries to improve the gang's identities by giving them new personas. Robin is now a professional scotch taster dating Ted, Lily and Marshall are in an open marriage, and Marshall is a successful playwright.
When Barney's dad arrives, they visit the club Hopeless. Robin spots her secret crush at the club. Years beforehand, Robin was out clothes shopping and a man (who later became Robin's crush) asked her for her opinion on his clothes.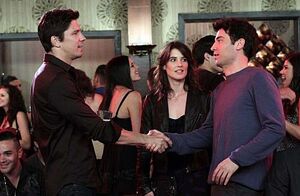 Robin approaches her crush at the bar and the two start flirting. Ted quickly jumps in, introducing himself as Robin's boyfriend, driving the man away. Future Ted implies that something might happen between them.
Meanwhile, things aren't going well between Barney and Jerry. Jerry doesn't want to drink, since he has a fishing trip with J.J. in the morning. In an attempt to get Jerry to relax, Barney reminds him of the last words he said to Barney: Never stop partying. Jerry reveals that he doesn't remember that at all, and a visibly upset Barney tells Jerry to go home, since he only wants to spend time with Crazy Jerry, not "stay at home Jerome". Jerry, who desperately wants to spend time with Barney, decides to stay and quickly does four shots.
As a drunk Jerry starts dancing, Marshall and Lily argue about who could do better than the other if they were actually in an open marriage. They decide to see who can flirt with other club patrons and get five phone numbers first.
Jerry and Barney decide to leave the club and hit "the greatest party in the world: the streets of New York".
With the rest of the gang occupied, Robin asks Ted for help "breaking up" so that she can flirt with him. Ted asks where they met, and discovers that Robin met him while they were still dating, and realizes she was thinking about him when she and Ted had sex later that night. Rather than break up in front of Robin's crush, Ted pretends to propose to her, ruining their chances of ever dating.
Out in New York, Jerry and Barney get up to some drunken antics; getting in fights, destroying parking meters and vomiting on police cars. The two are arrested and while handcuffed on the street, Jerry reveals that he's not actually drunk; he didn't want to drink, but Barney wouldn't take no for an answer, so he used another sleight of hand trick to pour out the alcohol in the shot glasses before he drank from them.
Jerry apologizes, saying he only lied so that he could spend time with Barney, since Barney didn't want to attend his fishing trip with J.J. The two of them break out of their handcuffs and run down the street away from the police. Remembering the fishing trip, Jerry and Barney get a lift home with one of Jerry's driving students.
While driving, Barney asks how he managed to settle down, revealing his fears that he'll never be able to. The two share a heartfelt conversation, and once they reach the house, Jerry gives the old souvenir button from 1983 to Barney, telling him how important it is to him.
As Jerry leaves the car, Barney reconsiders and decides to go fishing with his Dad and J.J.
Meanwhile back at the club, Robin reminds Ted how he bought his red cowboy boots against Robin's advice, simply because the cute worker at the store suggested he buy them, and so he should stop being so hypocritical. As they walk home with Marshall and Lily (Lily having won their "first to five numbers" competition), Robin laments that it just wasn't meant to be with her secret crush. Her crush appears to be talking to someone on the phone and saying that Robin is engaged and that's the end of that. Future Ted narrates that "it wasn't the end of that... but more on that later."
At the end of the episode, Barney is seen fishing with Jerry and J.J. He ends the episode saying- "This...sucks."
Continuity
Edit
It is revealed that Barney got his love of magic tricks from Jerome.
Previous footage from

Legendaddy

plays at the beginning of the episode. This was also the episode where Barney first expressed sadness that Jerome was a boring suburban Dad instead of a party-goer.
Barney tells Ted and Robin to mention to Barney's dad that they are dating. Barney then says he was probably never as happy as he was when he was dating Robin. Barney could've been using this as a cover for potential lingering feelings for Robin. They dated in Season 5 (

Definitions

to

The Rough Patch

).
When discussing plans for the night, the gang mention the club "Okay" several times. The gang previously visited Okay in

Okay Awesome

, and Barney and Marshall visited it again in

Ted Mosby: Architect

. Ted also laments that Okay is lame, something he complained about to the Coat Check Girl in

Okay Awesome

.
When Ted and Robin "break up", Ted says he would have stolen her a whole orchestra, quoting the line he said himself almost three years earlier when they broke up in

Something Blue

.
Marshall tells Jerome that he's writing a rock opera about frozen yogurt shop. In the beginning of

Zoo or False

he mentioned he had previously worked in a frozen yogurt shop, and it was "wild".
The origin of Ted's red cowboy boots from

Everything Must Go

and

The Three Days Rule

is revealed.
Lily says that her secret crush is Mila Kunis. Lily has shown bisexual tendencies in previous episodes, such as

Best Prom Ever

and

Robin 101

.
Lily's lactose intolerance is brought up again when she's arguing with Marshall about who would do better in an open marriage.
Robin's crush reappears in

Farhampton

and his name is revealed to be Nick.
For a listing of all images on the wiki tagged as being from this episode, see Category:Hopeless images.
Memorable Quotes
Edit
Jerome

:
A magician never reveals his greatest trick.
---
Young Barney

:
But, you were supposed to take me to see that Zeppelin cover band next week. The night was going to be... 'Led and Jerry'
—even at a young age, Barney appreciated legendary things... almost
---
Marshall

:
Game on! If I can score five numbers before you can, then we have sex in the bathroom but, if you can score five numbers before me, then we have sex in the bathroom.

Lily

:
So our usual wager. Deal!
---
Barney

:
My dad will be all, why don't you marry Robin? You guys were cute together. Deep down you know you were never happier than when you were with her.
---
Robin's Secret Crush

:
I saw that girl (Robin) again tonight. Guess what? She's engaged. So that's the end of that.

Ted

:
It wasn't the end of that.
---
Barney

:
Oh we're not drinking here. Tonight we're going big. Let's see what club do we hit first. There's Club Was. There's Wrong.

Marshall

:
Umm...those places shut down a long time ago.

Barney

:
Oh no?

Marshall

:
Oh No shut down too.

Ted

:
There's Where.

Jerome

:
Where's Where?

Lily

:
Where's where Was was, isn't it?

Barney

:
No Was wasn't where Where was. Was was where Wrong was, right?

Jerome

:
Ok?

Ted

:
Not OK. That place was lame.

Robin

:
OK is Lame? I thought Lame was a gay bar. Or is that Wrong?

Marshall

:
That's Wrong. That's not wrong.

Barney

:
Guys focus.

Robin

:
Oh I like Focus. Let's go there.

Ted

:
Where?
---
Notes and Trivia
Edit
Goofs and Errors
Edit
In

Natural History

, Barney says the last time he saw Jerome was July 23rd, 1981. In this episode, it's shown they last saw each other in 1983.
In

Natural History

, Barney tells Robin that he last saw his dad when they came to the museum. That was the day he damaged the blue whale in an exhibit. The security officer dates the incident to July 23, 1981, when Barney was five, but Barney's dad says they last me when he was six.
Robin's crush's "ugly shirt" was previously worn by Lawrence, the man who bought Lily's painting for the frame, in

Everything Must Go

. (Which is ironic as he was supposedly a "man of style")
Allusions and Outside References
Edit
The gang perform the title theme, "Hey Beautiful", during the opening.
Other Notes
Edit
Was - Shutdown (but reopened as Closed)
Wrong - Shutdown
Oh, no - Shutdown
Where
Okay - The club from

Okay Awesome

Lame - Gay Bar
Focus
Closed - Reopened after Was shutdown
Third Base - Full of frat guys
Shut Up - Shutdown
Hopeless - The club the gang choose to go to
Riley Thomas Stewart - Young Barney
Cristina Rosas - Penny
Kelly Curran - Mindy
Jill Basey - Mrs. Perkins
Reception
Edit
This episode premiered to 6.485 million viewers.[1]
Donna Bowman at the A.V. Club gave the episode an A-.[2]
Zach Oat at Television Without Pity gave the episode a B-.[3]
Robert Canning at IGN gave the episode an 8.5 out of 10.[4] He felt that "The episode, while sweetly putting Barney and his dad into a much better place, was also one of the funnier episodes of the last few. There were plenty of great references to the history of the series, including Ted's red cowboy boots, and some funny bits referencing Lithgow's role in Footloose and the classic comedy stylings of Abbott and Costello. Plus the gang's fake band breaking into the series' theme was delightful. Overall, after a couple weeks off, How I Met Your Mother came back strong."
References
Edit
External Links
Edit