Goliath National Bank
1,017
legendary pages on this wiki
Comments

47
Goliath National Bank

First appearance
Goliath National Bank, "the world leader in credit and banking", is the bank where Barney Stinson, Marshall Eriksen and Ted Mosby used to work.
Prior to working at GNB, Barney worked at AltruCell WOW
Corporation. In 2008, AltruCell acquired GNB in a ruthless takeover that took two months and cost 2000 jobs. Several weeks later, Barney would get Marshall a job in GNB's legal department. Marshall accepted the job even though it did not match with his dream of practicing at a law firm to save the environment. However, because of the high salary he decided to earn money first for his life with Lily (The Best Burger in New York).
GNB is currently involved in constructing a new downtown headquarters. The project was originally scrapped in 2009 after Ted Mosby's architecture firm was selected to do the work. Over a year later, the project was picked up again and Ted was again put in charge.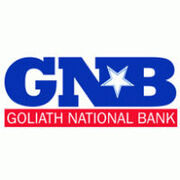 Name and Logo
Edit
The star in between the N and the B in the GNB logo is an inverted pentagram. That, along with the name "Goliath," a reference to the legend of David and Goliath, are hints that the bank is an evil entity.
We'll be on your side when you need a friend
Through thick and thin you can always depend
The World leaders in credit and banking
Goliath National Bank
(member FDIC)
Employees
Edit
Current Employees
Edit
Alvin Andrew (Don John)
Roy Waterman
Herm (Gives a toast to Ted Mosby in the opening of the GNB building)
Nolan
Wisniewski
Eyebrow Guy
Amber 
Gary Blauman (In a likely fictional tale portrayed in

The Chain of Screaming

, Blauman is said to have quit; he is seen working there in later episodes.)
. Jill
Former Employees
Edit
For a listing of other articles related to Goliath National Bank, see Category:Goliath National Bank