Future Ted
Comments

11
861
legendary pages on this wiki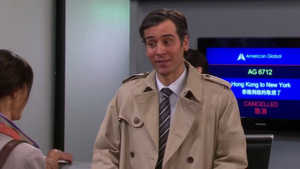 Future Ted is the narrator of How I Met Your Mother. He is the Ted Mosby of 2030, the Ted who is telling his two kids the story of how he met their mother. He is voiced by Bob Saget.
As Future Ted and Ted Mosby are the same person, most information about Ted can be found on the main Ted Mosby page.
Notes and Trivia
Edit
Future Ted from 2030 has never been seen, only his voice has been heard.
He has provided voiceover narration for almost every episode.
In

The Duel

, Ted actually refers to a future version of himself as "Future Ted", claiming that Future Ted can deal with moving out after Marshall and Lily's wedding, and in

Do I Know You?

when he high-fives himself through the space time continuum.
When narrating, Future Ted is voiced by Bob Saget, but when Ted appears in scenes set in the future, he is still played by Josh Radnor. This suggests that while Future Ted and Past Ted have the same voice, the way that Future Ted's voice sounds in his head/the sound of how he thinks or hears himself is what separates them.