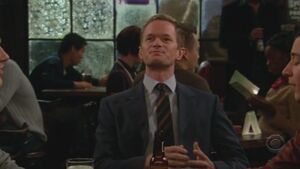 The
Freeway Theory
is one of
Barney
's many theories.
Formulated by Barney in First Time In New York, detailing how relationships are like freeways, and there are exits that can be taken to get out of them:
6 hours (aka one night stand)
4 days
3 weeks
7 months
1.5 years/18 months
18 years
death
Quotes
Barney

:
Watch your steps when you get up kids, 'cause I'm about to drop some knowledge. Relationships are like freeways, freeways have exits, so do relationships. The first exit, my personal favorite is 6 hours in, you meet, you talk, you have sex, you exit while she's in the shower. The next exits are; 4 days, 3 weeks, 7 months, a year and a half, 18 years, and the last exit, death, which if you've been dating the same woman your whole life, it's like "are we there yet?
---
Ad blocker interference detected!
Wikia is a free-to-use site that makes money from advertising. We have a modified experience for viewers using ad blockers

Wikia is not accessible if you've made further modifications. Remove the custom ad blocker rule(s) and the page will load as expected.