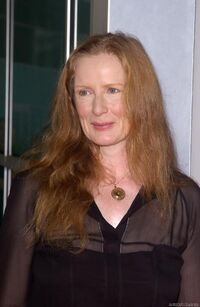 Frances Conroy
(born November 13, 1953) is an American actress who plays
Loretta Stinson
on
How I Met Your Mother
.
Biography
Frances Conroy was introduced and encouraged by her parents to explore the elements of theater. Born in Georgia in 1953, she attended high school in Long Island and experienced classes at the Neighborhood Playhouse as a teenager. Frances Conroy also studied at Juilliard where she was taught by theater greats John Houseman and Marian Seldes. Following potent dramatic roles in such classical productions as "Mother Courage...and Her Children," "King Lear," "All's Well That Ends Well," "Measure for Measure" and "Othello" (as Desdemona) in the late 70s, she made her Broadway debut with The Lady from Dubuque in 1980. She went on to earn a well-respected name for herself under the Broadway and off-Broadway lights throughout the 1980s in such esteemed plays as Our Town (as Mrs. Gibbs), The Little Foxes (as Birdie) and In the Summer House. She also appeared with Seldes in the well-received plays Ring Round the Moon and A Bright Room Called Day. She won a Drama Desk Award for The Secret Rapture and an Obie for The Last Yankee. In 2000 she received the Outer Critics Circle Award and a Tony nomination for The Ride Down Mt. Morgan.
An actress of subtle power, great depth and astonishing versatility, she has both an aloof serenity and faintly sad/sensitive ambiance that makes her all the more mysterious and intriguing. She came out to California in 1985 at the invitation of director Houseman and appeared in more theater plays, including Richard III, at San Diego's Globe Theater. She also earned a sprinkling of generally overlooked film and TV parts, including small parts in Woody Allen's Manhattan (1979), Another Woman (1988) and Crimes and Misdemeanors (1989).
Showing a distinct flair for the offbeat, nothing really pushed the envelope for her on screen quite like her series' turn as the dowdy, emotionally frail undertaker's widow in the cult hit TV series Six Feet Under (2001). During the five-season run she won both Golden Globe and Screen Actors Guild awards and was nominated four times for an Emmy. Since then she has been offered a number of interesting, more prominent parts in such movies as Die, Mommie, Die! (2003), Catwoman (2004), The Aviator (2004) and Shopgirl (2005). In 1992 she married actor/husband Jan Munroe, an L.A. performance artist. After a six-year absence, Frances returned to the theater in a 2006 production of Pyrenees by David Greig at the Kirk Douglas Theater in Los Angeles.
In 2011, Conroy began appearing in the television series American Horror Story, on the FX network, as one of two actresses playing the housekeeper.
Filmography
External Links
Ad blocker interference detected!
Wikia is a free-to-use site that makes money from advertising. We have a modified experience for viewers using ad blockers

Wikia is not accessible if you've made further modifications. Remove the custom ad blocker rule(s) and the page will load as expected.