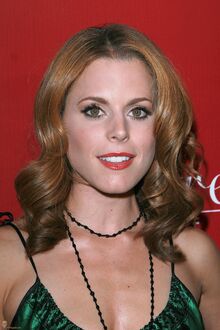 Erin Cardillo
(born February 17, 1977) is an American actress that plays
Treasure
, the stripper that
Barney
hired for
Marshall
's bachelor party.
Biography
Erin was born in White Plains, New York, but considers Greenwich, Connecticut, where she lived from age 9 through high school her hometown. She attended Northwestern University and has a Bachelor of Science degree in Performance Studies. She spent her junior year abroad in London where she cultivated her great love of Shakespeare.
After college Erin moved to New York where her leading role in the stage play Hunter for Hunter Green, by Sam Forman, landed her theatrical representation. After booking a few guest starring roles on television, Erin decided to move to Los Angeles where she continues to work in television, as well as in feature films.
From 2005-2008 Erin had a contract role on the daytime soap opera Passions where she played the role of Esme Vanderheusen, and was named "Soap Opera's Digest's Most Entertaining Character of 2007". She was also called "pee-your-pants funny" by TV Guide. From 2008-2011, Erin played Miss Emma Tutweiller on the highly popular Disney Channel series, The Suite Life On Deck. In 2010 her starring role opposite John Heard and Brendon Sexton in the feature film, The Truth, received high accolades from the Boston Examiner upon it's premiere at the Boston Film Festival.
Since living in Los Angles, Erin has also worked as a writer and producer. In 2004 she wrote and produced a short film, The Murder of Donovan Slain, and in 2007 she produced and stared in another short film, Superglue. Her first play, Mercy Park, was produced as part of The Blank Theater Company's Living Room Series in 2007. Also in 2007, she and writing partner, Michael Weiner, developed a TV pilot with Storyline Entertainment. In 2010 she finished her first feature, iLuv - Austin Winsberg and Jennifer Todd attached to produce. Also in 2010, she was hired to do a rewrite job for Alcon Entertainment.
In addition, Erin is the Executive Director of Warner Loughlin Studios, a private professional acting studio in Hollywood, where she also works as a Senior Instructor and runs the Staff Instructor Training Program.
External Links
Ad blocker interference detected!
Wikia is a free-to-use site that makes money from advertising. We have a modified experience for viewers using ad blockers

Wikia is not accessible if you've made further modifications. Remove the custom ad blocker rule(s) and the page will load as expected.