Cleaning House
Comments

3
862
legendary pages on this wiki
Barney convinces the gang to help him and his brother James pack their mother's house to move. Barney reexamines his childhood and clues are found to his and James's paternity. Ted is upset that Robin 'oversells' him to a blind date.
Barney
is with the gang at
MacLaren's Pub
telling another story of romantic conquest when he suddenly breaks down in tears. He explains that his mother is moving out of his childhood home. Barney then tells the gang that they will be helping him move it all over the next two days. Despite their protests, they show up, meeting Barney's mother, Loretta, and his brother, James at their house in Staten Island.
While the gang goes through Barney's childhood room, they find evidence of a lonely childhood, which was all covered up by Loretta's elaborate lies (like the fact that Bob Barker was his father). Barney seems to accept these delusions at face value until he and his brother find an unmailed letter to a "Sam Gibbs," with a photo of the two of them, with the words "your son" on the back.
The gang immediately heads over to the address. Barney admits that he knows that Bob Barker is not actually his father, and that he's ready to face the truth. An elder black man answers the door. James realizes that Sam is his father, and the two embrace, crying. Barney then joins the hug, under the impression that this man is his father as well. He then proceeds to feed into the idea that he is African-American, even interrupting Sam and James' beautiful duet of Stand By Me.
Back at his mother's house, Barney sits in his room with Loretta who gives him a note to the identity of his real father. While they talk, Barney puts together all the work his mother did for him as a child, tears up the note and realizes that she's all the father he'll ever need.
Meanwhile, Robin tells Ted that she has been promoting him to a hot makeup artist at work, but when she describes her selling points, Ted is worried that she oversold him. Over the course of the day, she sends a series of text messages to try to balance out this faux pas. Near the end of the episode, Robin receives a text from the women which says she is still interested in meeting Ted. Ted then realizes that Robin has oversold the woman to him.
Continuity
Edit
Ted refers to himself as "Teddy Westside", which he first did in

Rabbit or Duck

, and Barney called him that in

The Perfect Cocktail

.
Barney admits that Bob Barker is not his father. The gang finds out that he thought Bob Barker was his father in

Showdown

.
Ted refers to his mother, who married Clint in

Home Wreckers

.
This is the second time the gang has visited the Stinson House, the first occured in

The Stinsons

.
The gang use a Move This truck to visit Sam Gibbs. Ted previously used a Move This truck to take his belongings to Robin's Apartment in

Moving Day

.
James Stinson makes a third appearance, his first being in

Single Stamina

and the second being

The Yips

. He also mentions his adopted son Eli, who was also shown in the same episode.
Barney is often seen performing magic. In his childhood bedroom, he has a 'Magic Tonight' certificate.
The music that plays while a younger Barney slam dunks a basketball is the same music that played when Barney completed his

Perfect Week

.
Marshall's interest and pseudo-expertise in the supernatural was again demonstrated in this episode, with him referencing the beliefs in Santa Claus, the Easter Bunny, and alien landings.
Lily previously has acted as the disciplinarian to Barney's antics. She does this again when dragging Barney out of the room when interfering with James and Sam's bonding while they sing.
Sam Gibbs is shown again in

False Positive

and Barney is shown to still be confused about him not being his father.
The previous time the gang was at Barney's childhood home (

The Stinsons

), Barney refers to The Karate Kid. This time, Ted brings up The Karate Kid.
Main article: Cleaning House (gallery)
For a listing of all images on the wiki tagged as being from this episode, see Category:Cleaning House images.
Memorable Quotes
Edit
(Inside the Move This truck on the way to Sam Gibbs' house, Ted and Robin discuss how to market him to a blind date.)
Ted: (to Robin typing on BlackBerry) Ted Mosby is solid as a rock. No, dependable. No, rugged. No-
Robin: Why don't I go to the Chevy website and copy down the adjectives?
Ted: I just want to hit that perfect middle ground.
Robin: How about if we just go wildly to both extremes and let them balance each other out? (reads message) "Ted Mosby is really handsome but extremely violent and really rich, but lacks bladder control-" (truck hits bump; Ted and Robin are jolted) Oh damn, that last bump just made me hit 'Send.'
Ted: No, no.
Robin: Don't worry, everyone will get it's a joke.
Ted: No they won't, they'll think...wait. Everyone?
(Lily, Marshall, James, and Barney at the cab also received the message)
Barney: (reads message) "Really rich"? (Everyone laughs)

---
Barney

:
I know Bob Barker's not really—you know—I'm not crazy. I just... I needed that. I know it may sound stupid, but I didn't always feel so great about myself growing up and having a celebrity dad made me feel special. But you're right, James. Its time to let go of the fantasies. Time to grow up.
—A rare moment of honesty from Barney as he prepares to meet Sam Gibbs
---
(The gang just saw James finally meet his real dad and Barney acts like he found his father as well)
Lily: Don't worry, we'll just help Barney snap him out of this one.
Marshall: Or we could just let him have this one.
Lily: Are you kidding?
Marshall: Guys, Barney's losing his childhood home, he finally admitted Bob Barker's not his dad, and he watched James meet his real father, it's just a lot to go through in one afternoon. Can't we just let the guy be black for a day?
Notes and Trivia
Edit
Goofs and Errors
Edit
Barney's childhood room contains a normal single bed, however in

The Stinsons

, it was said that Barney's room had a bed shaped like a race car. Of course, it's possible that Barney got rid of his race car bed and replaced it with a normal bed as he got older.
It is mentioned in this episode that James is older than Barney, however in a flashback in the

The Yips

it is shown that when Barney was 23 he went to get advice from James who was in college at the time, it's possible that James went back to college to revisit a course.
Allusions and Outside References
Edit
Ted mimics Daniel from The Karate Kid. The Karate Kid is an underdog, coming-of-age martial-arts film released in 1984 featuring Ralph Macchio and Pat Morita.
James believed he received a glove from Michael Jackson for his tenth birthday.
James explains how Loretta tried to convince him his father was a famous African-American, such as comedians Flip Wilson and Bill Cosby, actor James Earl Jones, and basketball player Meadowlark Lemon.
Barney owns a fake autographed baseball that was erroneously signed by a "Frank Aaron". This is a reference to home run king Hank Aaron.
Robin mentions to Ted that the girl she is setting him up with looks like Robert de Niro's appearance in the movie Cape Fear.
Barney says at the end of the episode that he has the only father he needs, and "that his name is Loretta". This is referencing the song Get Back by The Beatles.
In Barney's bedroom a Diabolik poster is seen.
Other Notes
Edit



Deleted Scene from this episode

Added by

Babar Suhail

At the end of the episode, when Barney tells Loretta that she was his father, closed captioning has Future Ted saying "Kids, Barney would learn the truth about his dad sooner than he ever could have guessed. But as he hugged Loretta on this, the last day he'd ever set foot in his boyhood home, he realized he had one hell of a mom." In the audio for the episode, the first sentence is removed, and the second sentence is cut up and inserted not in its entirety.
A deleted scene from the episode reveals that Ted's mother told him that he was allergic to bacon.
Paul Schackman - Doctor
Riley Thomas Stewart - Young Barney
Michael Earl Reid - Post Master General
David Haley - Coach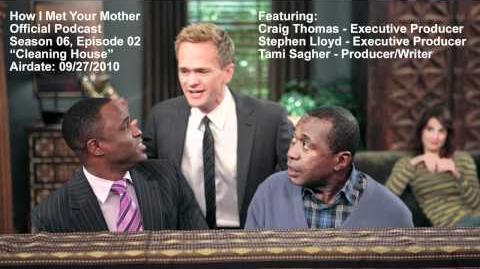 It features an interview with
Craig Thomas
,
Stephen Lloyd
and
Tami Sagher
.
Reception
Edit
This episode premiered to 8.971 million viewers.[1]
Donna Bowman at the A.V. Club gave the episode an A-.[2]
DeAnn Welker at Television Without Pity gave the episode a C+.[3]
Robert Canning at IGN gave the episode a 6.5 out of 10.[4]
References
Edit
External links
Edit