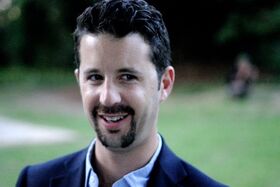 Chris "Romanski" Romano is an American actor who plays Adam Punciarello on How I Met Your Mother.
Biography
Chris Romanski is an actor, writer, producer, and director; most commonly known for co-creating and acting in Spike TV's Blue Mountain State. He acted along side Darin Brooks and Denise Richards for 3 seasons of Blue Mountain State.
Romanski has also played small roles in the hit CBS television show, How I Met Your Mother as Punchy, Ted's friend, along with appearances in Comedy Central's The Sarah Silverman Program the TV short series, Acceptable TV, and plays as the bus driver in The Hard Times of RJ Berger.
External Links
Ad blocker interference detected!
Wikia is a free-to-use site that makes money from advertising. We have a modified experience for viewers using ad blockers

Wikia is not accessible if you've made further modifications. Remove the custom ad blocker rule(s) and the page will load as expected.