Carly Whittaker
Comments

221
963
legendary pages on this wiki
Carly Whittaker is the daughter of Jerome Whittaker, older sister of J.J Whittaker and half-sister of Barney Stinson. She also briefly dated Ted Mosby. (Ring Up)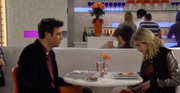 Storyline
Edit
In Ring Up, Ted meets and starts seeing a girl who turns out to be just slightly younger than 21. While he finds her really attractive, the difference in their age means he has trouble connecting with her. When he is about to give up and end things with her, Barney convinces him to give it a shot, which will allow Barney to live vicariously through Ted now that Barney is engaged to Robin. Ted finally gives in when he realizes she likes Star Wars. After their one-night stand, however, Barney finds out that she is actually Carly, his half-sister. Barney attempts to marry Ted and Carly, and mentions that he finds the idea of a one-night stand "cheap, meaningless and disgusting".
Notes and Trivia
Edit
Carly is first mentioned in the episode Legendaddy when Barney's dad shows Barney a picture of his kids, saying, "This is my daughter Carly, she's in college."
Her childhood home is located ten minutes away from Ted's house. [2]
Some fans considered her being the mother. That theory was disproved by her first appearance, in which she is revealed to be roughly ten years younger than Ted and they have nothing in common but Star Wars.
Ashley Benson's co-star in Pretty Little Liars, Lucy Hale appeared in Season Two as Katie Scherbatsky. After Robin and Barney get married, their characters would become sisters-in-law.
References
Edit
External Links
Edit